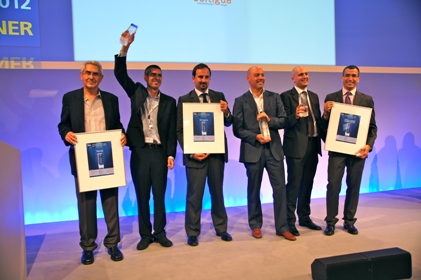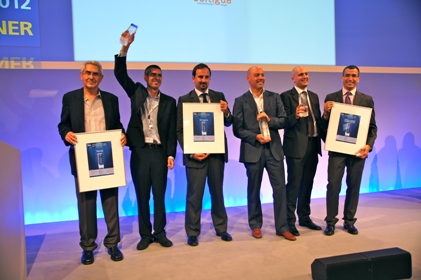 Intersolar Award 2012: Efficiency Wins
On 13 June, it was time for the fifth Intersolar Award at the Intersolar Europe in Munich. The solar industry's international prize pays tribute to companies, products and services in the categories of Photovoltaics, Solar Thermal Technologies and PV Production Technologies. It was awarded to nine companies – three from each category. Lucky winners in the Solar Thermal Technologies category are Shimon and Zvika Klier from Tigi Ltd, Israel, Pierro Abbate and Vittorio Palmieri from TVP Solar, Switzerland, and Francesco and Vittorio Orioli from Soltigua – Laterizi Gambettola SRL, Italy (from left to right).
Photo: Stephanie Banse
Tigi's Honeycomb Collector impressed the jury by combining high collector efficiency and material durability. The see-through honeycomb structure in between the glass cover and the absorber sheet is made from polycarbonates, which keep convective and radiative heat losses to a minimum. The highly efficient technology leads to stagnation temperatures of 250 to 300 °C. Overheating and steam protection provide safety for the collector and other system components. The overheating protection is based on a separate pipe system with its own liquids on the collector's back. This means it works whether or not water is circulating in the primary loop.
When asked about the unique features of the Honeycomb Collector, Tigi's CEO, Zvika Klier commented: "Transparent insulation improves each step's performance significantly compared to conventional flat plate and evacuated tube collectors. Our collectors also offer built-in overheat protection and a sealed casing. The two features together ensure both lower system costs and high collector performance over a long time. We will introduce the collector to the market later this year and believe it can have a big effect in terms of performance and return on investment for applications such as space heating, cooling or process heat". The collector´s price will be somewhere between leading flat plate collector and leading vacuum tube collector brands. The 2.09 m² panel weighs around 45 kg.
The jury views parabolic collector PTMx by Soltigua as one of the best solar thermal technologies because of its high level of efficiency and profitability. The collector consists of an inexpensive but highly effective fine glass reflector and is particularly suitable for solar installations in industrial settings, such as medium heat processes (150 to 250°C) based on steam or thermal oil. PTMx is the improved version of parabolic collector PTM, which has been tested pursuant to European technical standard for solar thermal collectors up to 250°C, EN 12975.
PTMx's efficient mirror shaping technology exploits the high reflectivity of glass. Innovations such as a patented modular receiver simplify the installation procedure. Thanks to its precise and reliable tracking system, the collector does not require light sensors, or seasonal adjustment – a goodbye to complicated handling and maintenance. "Our tracking system has been automated entirely. It bases on a sophisticated tracking algorithm, which ensures highly precise movements without the need for any type of adjustment," explains Francesco Orioli. In economic terms, energy costs could be reduced by more than 90% and the annual return on the initial investment could be higher than 20% for industrial thermal processes which make use of diesel, LPG or electricity.
TVP Solar SA won the award for its Solar Keymark certified MT-Power flat plate collector. What makes the collector so special is its particularly high thermal output. The system provides high conversion efficiency at temperatures between 100 and 200°C by combining traditional flat plate designs with vacuum insulation. The Solar Keymark testing was conducted by the ITW at the University of Stuttgart. The components were tested for their durability, reliability and performance. The result: 550 Wth at 180°C. Its technical features are described in the following news: http://www.solarthermalworld.org/content/switzerland-flat-plate-solar-thermal-collector-manufacturer-relies-vacuum-technology.
The Intersolar Award is held annually by Intersolar Europe organisers Solar Promotion GmbH, Pforzheim, and Freiburg Wirtschaft Touristik und Messe GmbH & Co. KG (FWTM), in collaboration with the German Solar Industry Association (BSW-Solar), Berlin. A total of 93 companies from 15 countries seized this year's chance to compete for the Intersolar Award. By the start of May 2012, an independent jury composed of experts from research, science, industry and the trade press had nominated a total of 26 companies from the categories Photovoltaics, Solar Thermal Technologies and PV Production Technologies. From the groups of nominated companies the jury selected the three winners in each category.
Submissions were welcome for products and solutions which are exhibited for the first time in 2012 at the Intersolar Europe or Intersolar North America, or which were exhibited at the Intersolar India or Intersolar China in 2011, and represent significant improvements of existing technologies. Entries must have had industrial trial runs before or already be in industrial use. The evaluation criteria depended on the challenges posed by the market: the degree of technological innovation; the benefit for the industry, environment and society; the profitability of the solution; proof of its innovative quality.
More information:
http://www.intersolar.de
http://www.soltigua.com
http://www.tigisolar.com
http://www.tvpsolar.com