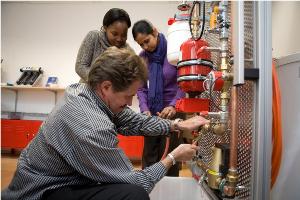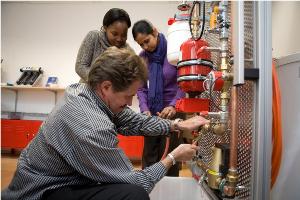 International Training Courses in Berlin, Germany
Combining theory with practical training: The seminars of the Renewables Academy (RENAC) take place in the newly equipped training center in Berlin, Germany. Photo: RENAC
The Renewables Academy (RENAC) from Germany is offering a new training programme for solar thermal energy use in June 2009. It will be the first time for the Berlin-based, international training specialist to hold seminars on large solar thermal systems. The five-day courses aim at technicians and engineers. Technical training takes place in the newly equipped RENAC training centre in Berlin. All seminars will be in English.

8 – 12 June 2009
Design and installation of large-scale solar thermal systems This course is about large-scale solar thermal installations with dynamic system simulations and covers training units on designing, installing, operating and monitoring these systems.
29 June to 3 July 2009
Design and installation of solar thermal systems for hot water and space heating This course covers function, system design, installation, operation, maintenance and quality control of small-scale solar thermal systems. Technical training also includes economic calculation. The seminar combines theory with practical training and shows different system designs in operation.
Further information:
RENAC – Renewables Academy AG
Anja Haupt
Phone +49/ (0)30/52 689 58 73
Schönhauser Allee 10-11
10119 Berlin/ Germany
haupt@renac.de
http://www.renac.de