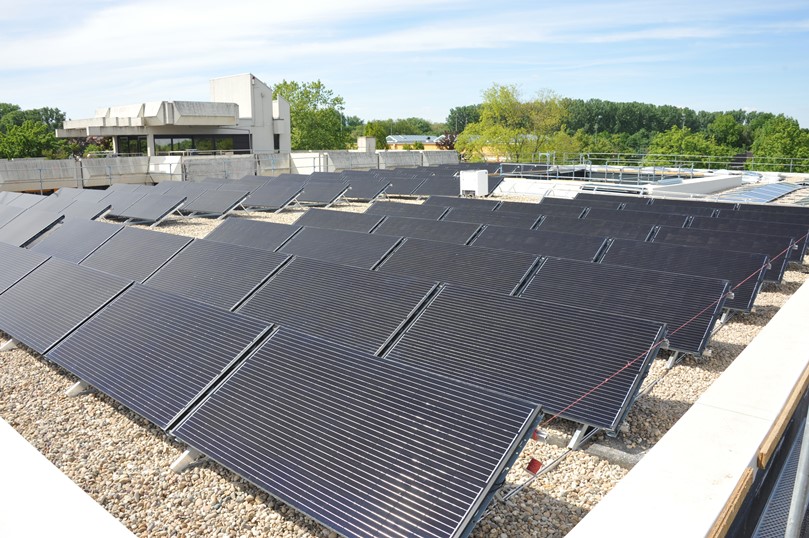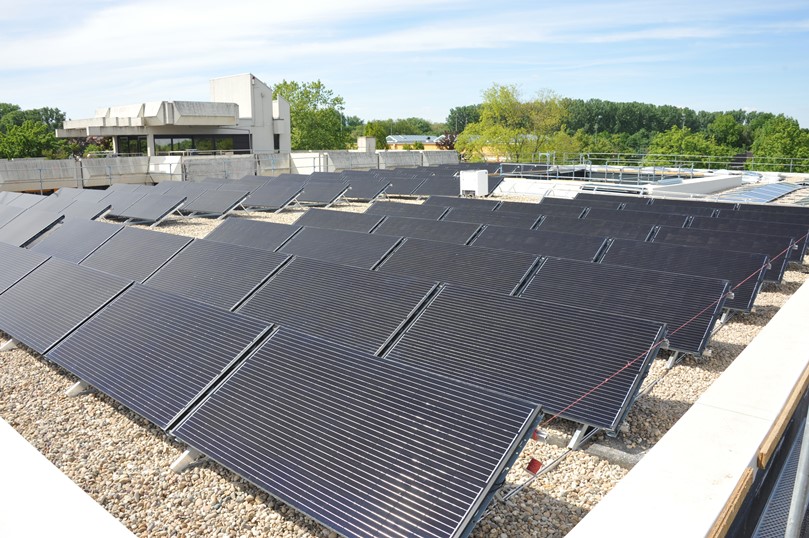 Insights into global PVT market development
The demand for PVT collectors has grown rapidly in the last two years. Annual sales of PVT area increased 57 % to 167,165 m2 in 2021, after growth of 20 % in 2020. The largest markets for new PVT additions in 2021 were France, the Netherlands, Israel, Germany and Spain. France achieved the highest annual growth rate with almost six times more PVT capacity added in 2021 (97,165 m2) than in the previous year. These insights into the global PVT market development are available because the IEA Solar Heating and Cooling Programme has supported annual surveys among PVT collector manufacturers worldwide since 2017. The Austrian institute AEE INTEC is responsible for these surveys and has once again published the results in a special chapter in the Solar Heat Worldwide 2022 report. The trends of the PVT markets in 2020 can be viewed here.
Photo: Consolar
By the end of 2021 a total of 1.44 million m2 of PVT collector area (751 MWth) was in operation worldwide. The countries with the highest deployment were France, South Korea, China and Germany (see figure 1).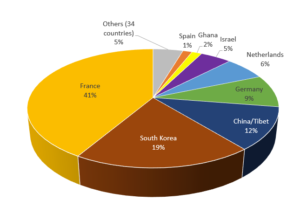 Figure 1: Global PVT market development – distribution of the total PVT collector area in operation globally (1.44 million m2) in the major markets Source: Solar Heat Worldwide 2022
Each year, around 30 manufacturers take part in the survey. In total, 38 firms provided data to determine the world market statistics presented above. Europe is the clear industry hub. Among the 38 companies, seven are based in each of the Netherlands and Germany, four in Switzerland and three each in France, Austria and Italy.
New additions in Europe has grown with 169 %
"The increasing awareness of PVT systems is visible in the growing number of manufacturers and a continuous increase in installed systems worldwide", said Carina Seidnitzer-Gallien, who is responsible for the survey at AEE INTEC. "Particularly significant is the growth rate of newly installed PVT area in Europe in 2021, at 169 %." Sales grew from 56,209 m2 in 2020 to 151,374 m2 a year later.
Figure 2: Schemes of four different PVT collector types. WISC stands for wind and/or infrared sensitive PVT collectors and is an alternative term for uncovered PVT collectors. Source: Task 60 – Application of PVT collectors
The survey differentiates between five different PVT collector types. One distinguishing feature is the heat transfer medium – air or water, a second is the construction of the PVT collector (see figure 2). Tables 4 and 5 (pages 26 and 28) in Solar Heat Worldwide show deployment by PVT type in 50 countries.
PVT air collectors dominate the French market. They provide warm air for space heating in residential homes. The major suppliers in this segment are the French companies GSE Integration and Systovi.
Uncovered PVT collectors dominate world market
Outside France, uncovered PVT collectors account for the majority of sales (94 %). They are mostly used as a heat source for a brine heat pump or for borehole regeneration. Among the largest suppliers of this PVT type are the following companies: Millennium Solar (Israel), Dualsun (France), Solator (Austria), Solar Energy Booster, Triple Solar, HR Solar, R&R Systems and Aliusenergy (all Netherlands), Solink/Hdemia (Italy) and Sundrum Solar (USA).
Covered PVT collectors are still a rather small market with 44,527 m2 in operation – 5 % of the world market outside France. Nevertheless, they are already used in many countries. The largest areas in operation with this PVT type are in Spain, the Netherlands and Germany. They usually provide heat directly for showering and space heating without a heat pump.
PVT modules based on evacuated tubes are so far only offered by one British manufacturer, Naked Energy (see photo below). The company announced the start of capital raising in July 2022. The targeted GBP 10 million (British pounds) will go towards US and further global expansion.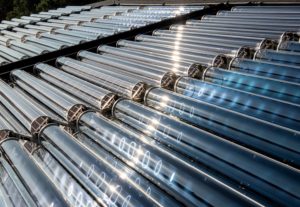 PVT elements in glass tubes Photo: Naked Energy
Websites of organisations mentioned in this news article:
Solar Heat Worldwide: https://www.iea-shc.org/solar-heat-worldwide
IEA Solar Heating and Cooling Programme: https://www.iea-shc.org/
Task 60 – Application of PVT collectors: https://task60.iea-shc.org/
Millennium Solar: http://www.millenniumsolar.com
GSE Integration: http://www.gesintegration.com
Systovi: http://www.systovi.com
Dualsun: http://www.dualsun.fr
Solar Energy Booster: http://www.solarenergybooster.nl
Triple Solar: http://www.triplesolar.eu
R&R Systems: http://www.energieverdieners.nl
HR Solar: https://www.nextsource.nl/
SoLink/Hdemia: http://www.solink.it
Sundrum Solar: http://www.sundrumsolar.com
Solartor: https://solator.cc/
Aliusenergy: https://alius.nl/