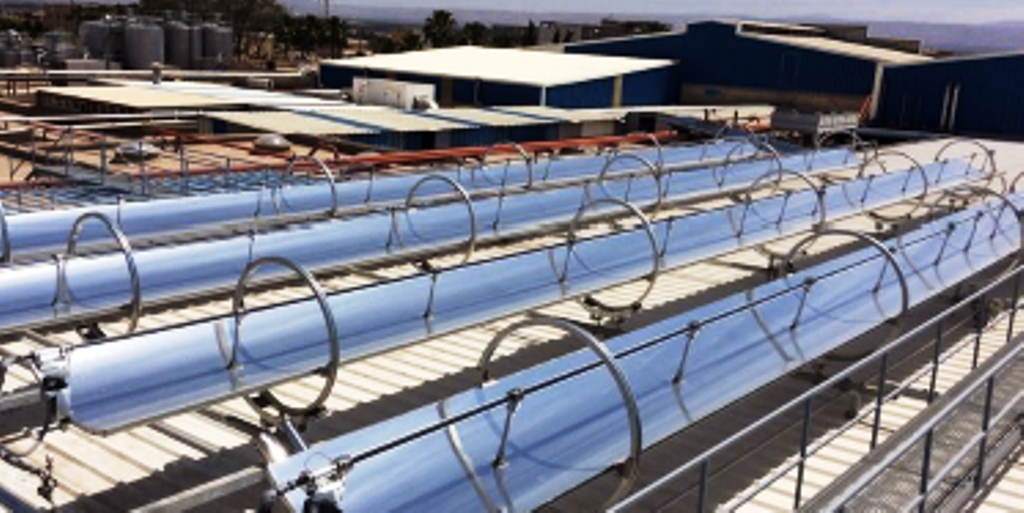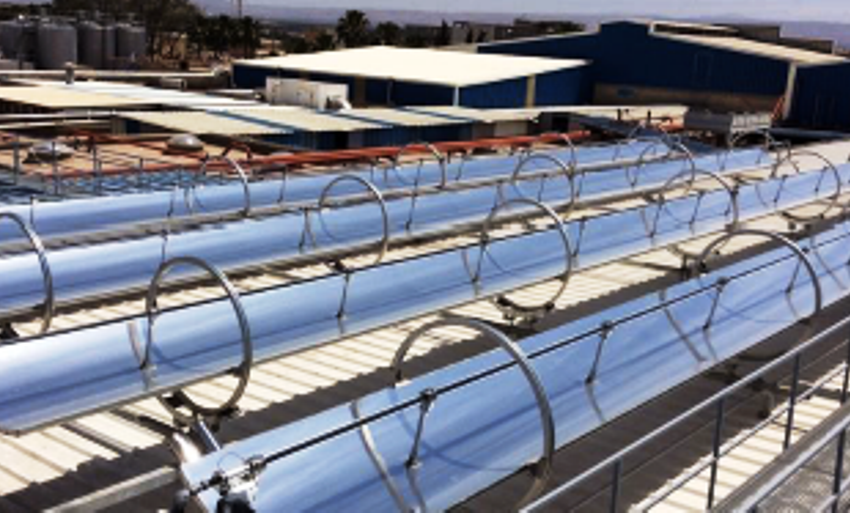 Initial pilot plants for industrial solar steam
Concentrating solar heat is a valuable energy resource in Morocco, especially for industrial applications. A call for project proposals has invited businesses to submit plans for constructing industrial solar heat systems, of which three will be selected to be supported by the World Bank. The call is part of MENA CSP KIP, short for The Middle East and North Africa Concentrating Solar Power Knowledge and Innovation Program. The photo shows one of few industrial solar heat installations existing in Morocco today. This 50 kWth solar thermal system on the roof of Moroccan-based COPAG in Taroudant consists of parabolic trough collectors which generate heat to sterilise milk production equipment.
Photo: Cluster Solaire
Morocco is experiencing a 6 % annual increase in demand for energy, with a 95 % dependence on imports. This demand is the driver behind the country's ambitious national energy strategy, a key part of which has been to deploy a great number of local renewable energy generation devices to secure domestic supply and protect the environment.
To ensure targets would be met, Cluster Solaire was founded in 2014 as a network that concentrates on the development of solar technology suppliers in Morocco. It has been part of MENA CSP KIP since 2017. Nadia Zeddou, Business Development Manager at Cluster Solaire, presented Morocco CSP KIP as a one goal, three actions programme (see the chart below) at the 1st Concentrating Solar Heat (CSH) Workshop in Amman, Jordan, in September 2018, when other participating countries showed their CSP KIP ventures as well.
Morocco CSP KIP: Three actions, one goal
Source: Cluster Solaire
Morocco CSP KIP intends to carry out small CSP and CSH projects, first by identifying the industrial sectors for which they have the highest potential and then by developing pilot projects. These two actions will be backed up by a capacity-building initiative: An initial webinar, which was held in July, was later followed by a five-day workshop in Casablanca in October. More training sessions have been planned for this year.
Few plants but high potential
The findings from a recent CSH potential study clearly showed that the industrial sectors most ideally suited for heat at low and medium temperatures are agri-food, pulp and paper, automotive and textiles.
For this reason, Cluster launched the country's first-of-its-kind call for proposals in July 2018, with the intent of constructing CSH systems with a thermal capacity of up to 400 kWth. "Of the 10 projects we have received, we have pre-selected six. They are currently being analysed from a technical standpoint by German-based research institute Fraunhofer ISE, with the aim of implementing three of these installations," said Zeddou.
Linear Fresnel collectors are part of all six endeavours, regardless of whether they are used to generate steam at textile manufacturers, agribusinesses or, in the form of air cooling, residential buildings. "These projects need to last for 12 months, must be scalable, and have to be managed by a company based in Morocco, in partnership with a technology provider," said Zeddou. The global grant budget was still under negotiation, since there were smaller and larger projects on the short list, she confirmed.
Organisations and events mentioned in this article:
Presentations from 1st Concentrating Solar Heat (CSH) Workshop are available for download at