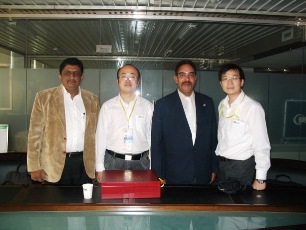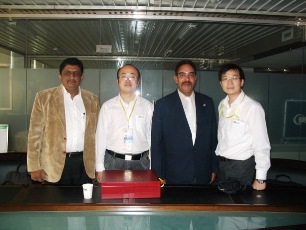 Indian-Chinese Joint-Venture produces Polymer Tanks in India
Indian collector manufacturer Nuetech Solar Pvt Ltd and Chinese solar system manufacturer Himin Solar Co. Ltd have signed a purchase agreement for polymers tanks, called NANO, on 18 February (from right to left): Surendra Kumar, Managing Director of Nuetech Solar, David Zhang, International Business Development Manager at Himin, Tygamundlu Anant, CEO of Nuetech Solar and Li Qianjin, Regional Manager, International Business Department at Himin.
Photo: Nuetech
Nuetech Solar has entered into an agreement with Himin about promoting the so-called NANO Solar Water Heater Tank under the Indian brand. At first, the tanks will be bought from China until they will later be manufactured in India under a joint-venture of the two companies.
The NANO tanks are made of polymers which can withstand hot water temperatures up to 150 °C over a certain time. According to Nuetech, this is an important innovation for the Indian market, because there are a lot of problems in India with corrosion in stainless steel and mild steel tanks in open loop systems. NANO tanks are made of polymer-based composite material, which is inherently corrosion-proof. The tanks are blow-molded without joints and they are seamless, which means leaks will be avoided.
Himin polymer tank for a thermosiphon system with vacuum tube collectors
Photo: Nuetech
As per Nuetech Managing Director Surendra Kumar, the new development will largely be beneficial to semi-urban communities, at which availability of clean water is always an issue. Polymer tanks have better insulation values than metallic ones, allowing them to be sold and installed without insulation. Without the insulation, they become slimmer than conventional tanks – a feature that gave them the name NANO.
More information:
http://www.nuetechsolar.com
http://www.himin.com