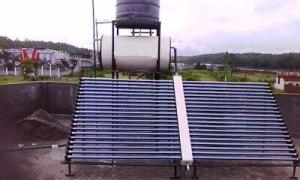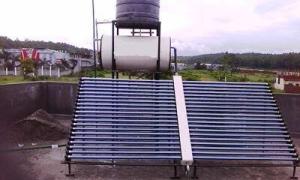 Solar Water Heater in Uttarakhand
India: Uttarakhand State Increases Solar Water Heater Rebate
The Uttarakhand Electricity Regulatory Commission (UERC) has increased the rebate for residential Solar Water Heaters (SWHs) in the northern Indian state of Uttarakhand to INR 100/month and 100 litres of capacity in May 2011 (see attached pdf). This is already the second increase in the subsidy's amount: UERC first introduced the rebate in April 2005 with 50 INR/month and 100 litres of capacity and increased it to 75 INR/month and 100 litres in May 2006. The maximum capacity that a residential user can claim a subsidy for is 500 litres. However, UERC has not specified how many years solar water heater owners will actually receive the rebate.
Photo: Jaideep Malaviya
According to UERC estimates, every 100 litres of solar-heated water would replace a 2 kW electric geyser. Annual electricity savings would sum up to 950 kWh, assuming 200 sunny days per year since the state is in the mountains of the Himalayan region. The highest purchase price of the state electricity supplier is 4.20 INR/kWh. This means that every 100 litre system should provide annual savings of up to INR 3,990. The subsidised tariff paid by the consumer is 2.95 INR/kWh, which results in savings of 2,802 INR/year (see the table below). The UERC rebate is paid in addition to the central government investment subsidy, which is 60% of the SWH benchmark costs.
Consumers who make false statements about the capacity of the solar water heater they bought will be taken to court and have to repay the total rebate. They will also be barred from receiving any rebates over the next 12 months.
| | |
| --- | --- |
| Assumed cost of 100 litre system (Flat Plate) | 20,000 INR |
| Annual savings of electricity | – 2,802 INR |
| Subsidy with 100 INR/month per 100 litres | – 1,200 INR |
| Capital subsidy from central government of around 60 % of the investment costs | – 12,000 INR |
| Investment costs left after first year | 3,998 INR |
Table: 80 % of the investment in a solar water heater installed in Uttarakhand State is repaid after one year
Source: UERC, own estimate
The calculations made in the above table show that nearly 80% of the investment is recovered after the first year. Jajpal Singh Bisht, owner of Ados Electronics, one of the leading local suppliers of SWHs, says that the incentives shown above have nearly doubled his company's sales during the last year and that demand is still high. Also, Ados Electronics had already sold residential systems with more than 500 m2 of collector area.
According to information provided by the Uttarakhand Renewable Energy Development Agency until the end of March 2010, the totally installed SWH area in the state was 20,014 m2. As a result of the federal incentives, the SWH area grew by 3,115 m2 in the period between April 2010 and March 2011. Between April 2011 and December 2011, the now second increase in the electricity rebate has added another 1,230 m2 of SWH area to the state total.
The state electric utility Uttarakhand Power Corporation Limited (UPCL) counts around 1.6 million domestic and commercial users among its customers. Even assuming that only a modest share of 5% of the total 1.6 million clients opted for solar water heaters, the total power purchase requirement would go down by about 76 GWh (80,000 systems times 950 kWh/a and system).
More information:
http://www.upcl.org