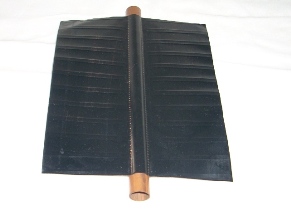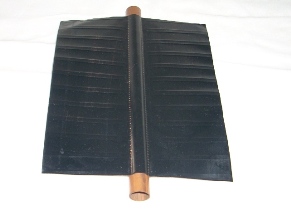 India: Sufficient Raw Materials for strong Market Growth
Aluminium fins by Indian company Maharaja Techno Chromes: According to the manufacturer, the laser-welded fins are nearly 60 % less expensive than copper ones and market acceptance is satisfying. Efficiency is certainly still a bit lower.
Photo: Jaideep Malaviya
Copper, aluminium, steel and low iron glass are the core materials required for producing flat plate collectors, which are still dominating the Indian solar thermal market. According to the National Solar Mission, a total of 16.5 million m2 of collector area is thought to be installed by 2022. Because of India's vast pool of resources, the enormous amount of raw materials necessary for these installations – if the area is just covered by flat plate collectors – should not result in any supply shortages.
The following table provides an overview of the raw material requirements for manufacturing a common 2 m2 collector:
| | | |
| --- | --- | --- |
| Material | Amount of material for a 2-m2 collector [kg] | Requirement of National Solar Mission [tons] |
| Copper fins | 6.4 | 52,800 |
| Cover glass | 20 | 165,000 |
| Aluminium frame & bottom sheet | 7.5 | 61,875 |
Raw materials required for fulfilling the targets of the National Solar Mission
Source: Jaideep Malaviya Consultancy
India is the 8th largest producer of aluminium in the world and possesses the 5th largest global bauxite reserves. Indians daily newspaper Business Standard estimates the aluminium production in India to be 1.38 million tons annually and to reach 5 million tons by 2015, which is why there is no perceived aluminium shortage in the near future. On the other hand, India is not a major producer of copper ore but of refined forms of copper. The country is completely dependent on imports.
The Indian demand of copper contributes to about 3.5 to 4 % of the world's total production of copper, or 0.6 million tons. There might be a shift from copper to aluminium as the absorber material because of these circumstances. The development is accelerated by rising copper prices on the world's markets. The following chart shows how the price of copper developed at the London Metal Exchange (LME). The price of a ton increased by 17 % over the last two and a half months, from 5,909 EUR/ton to 6,941 EUR/ton.
Clearly moving upwards: The chart shows the daily closing quotation of copper at the London Metal Exchange (LME) between 1 October and 13 December.
Figure: KME
There are no official figures available on sand reserves, but quartz sand (silica) required during the manufacturing of low iron glass is seemingly abundant. Shreevar Kheruka, Vice President of Borosil Glass Works (India's sole low iron glass producer), confirms that India has vast reserves of silica, which means the availability of glass will never hold back a strongly growing solar thermal market.