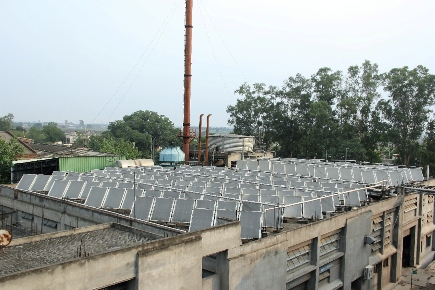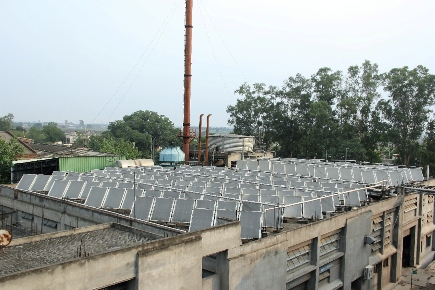 India: Solar Process Heat with less than 18-Month Payback Period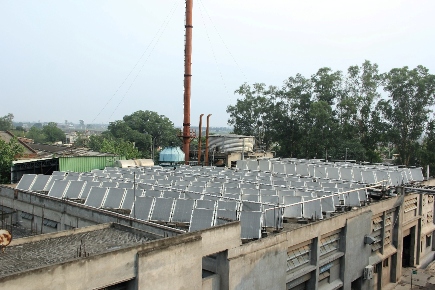 "Where there's a will, there's a way" is the slogan at Sharman Shawls, one of India's leading garment industry and export companies. Based in Punjab state in northern India, Sharman Shawls uses diesel to meet the hot water requirements for dyeing, bleaching and washing garments. The enterprise's daily consumption is close to 200,000 litres of water and the processes require almost 1,700 litres of diesel per day. 180 flat plate collectors preheat hot water to 80 °C, saving 82 litres of diesel at 300 days a year. Space constraints have limited the diesel saving per day to 5 %.
Photo: Jaideep Malaviya
Rising energy prices motivated Sharman Shawls to explore the use of solar energy. The company approached collector manufacturer Inter Solar from northern India for a feasibility study during which a solar thermal system was installed to reduce fuel costs and contribute to environmental protection. Inter Solar Systems has already proven their knowledge in solar process heat for other garment industry enterprises.
Preheating water at 80 °C
The hot water temperature requirement at Sharman Shawls is above 100 °C. Inter Solar carried out a feasibility study for a solar preheating system at 80 °C for the boilers. Without disturbing the existing set-up, Inter Solar Systems integrated the collectors using a heat exchanger to avoid scaling. They increased the number of collectors so as to attain higher temperatures of 80 °C – unlike typical flat plate collectors, which usually provide temperatures of up to 60 °C.
But space being a constraint, the final capacity of hot water to be supplied was reached at 12,000 litres, with 180 flat plate collectors each measuring 2 m². The inimitable component of the system's design is its water supply at 80 °C for nearly 300 days a year. The hot water is only used for daytime operations, although there is a buffer tank of 8,000-litre capacity to bridge the gap under changing conditions during the course of the day.
The project is valued at EUR 40,000 and will save over 25,000 litres of diesel per year. At the present cost of EUR 0.8 per litre, it will save EUR 20,000 annually. In addition, the company has been benefitting from accelerated depreciation, which will save another EUR 10,700. The payback period is below 18 months. Devinder Kaushal of Inter Solar is more than satisfied with the results: "We would like to capitalise on solar process heat and approach similar industries with a high water consumption where space is sufficient."
More information: