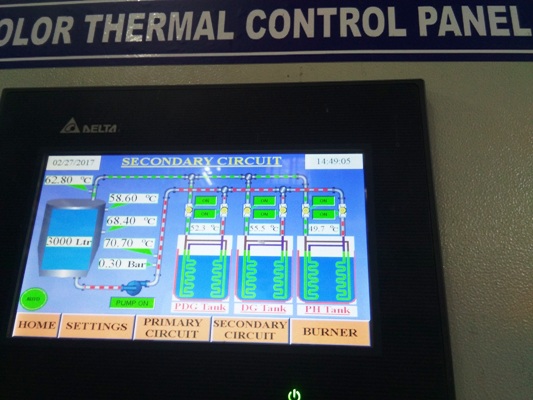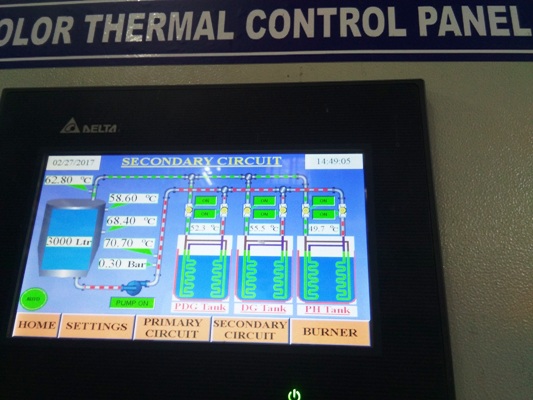 India: Proven SHIP Business Model with Third-Party Financing and Maintenance Contract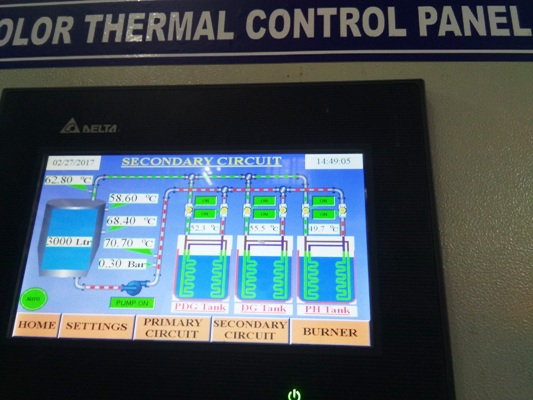 There has been growing demand for Aspiration Energy's (AE) business of delivering systems that provide solar heat for industrial processes (SHIP). In January 2017, the turnkey SHIP supplier based in India completed a second solar field with 600 m² (180 kWth) of vacuum tube collectors for Harita Seating, which is one of the country's leading manufacturers of automotive seating systems and part of the USD 7 billion TVS group. The first 600 m² system was commissioned in January 2015. Both fields combined meet around 50 % of the heat demand for degreasing and phosphating processes in Harita's factory. The photo shows the solar thermal control panel in the production facility; the 3,000-litre solar thermal storage tank can be found on the right. 
Photo: Jaideep Malaviya
So far, Harita Seating has used LPG to supply the energy needed for degreasing and phosphating. Harita began to explore the potential of solar energy because of rising LPG prices and increased concerns about energy supply security.
| | | |
| --- | --- | --- |
| Application | Tank capacity & temperature | Heat energy per hour |
| Pre-degreasing | 5,000 litres at 50 to 65 °C | 240 kWh/h |
| Degreasing | 5,000 litres at 50 to 65 °C | 240 kWh/h |
| Phosphating | 5,000 litres at 50 to 55 °C | 240 kWh/h |
Table 1: Daily hot water requirements for industrial processes at Harita Seating 
Aspiration Energy delivered a turnkey solar process installation to preheat the hot water storage tanks, which supply heat for degreasing and phosphating (see the table above). The collectors were mounted on unused factory rooftops facing southwards. The factory requires heat during two shifts or almost 16 hours each day.
The net investment of Indian Rupee (INR) 11.5 million for the two collector fields was covered by Harita. The company used the accelerated 80 % depreciation, which will offer a tax saving of almost 30 % of the investment cost in the first year after commissioning the system. Harita financed another 10 % from its cash flow and borrowed the remainder from a third-party investor. This loan will be repaid in 60 monthly instalments throughout the next five years. The private finance business providing the loan has asked for assurances from AE that the system will be maintained over the five-year payback period and defects handled by AE. After the system is paid off, Harita will profit from annual savings generated by the solar thermal system and can enter in an annual maintenance contract with AE.
The two solar thermal systems are expected to save the automotive supplier 60,000 kg of LPG each year. When the first collector field had been in the planning phase, the cost of LPG was calculated at 75 INR/kg, which meant a saving of INR 4.5 million annually and a payback period of less than 3 years. Suresh Sudhakaran, Maintenance Manager at Harita Seating, said that "the cost of LPG has dropped to 45 INR/kg, which means the second field will be paid off within five years. But we know fuel prices to be always unpredictable. Hence, we would strongly pitch for solar thermal for any industrial process requiring heat of up to 150 °C."
AE's Managing Director Bhoovarahan Thirumalai has been satisfied with the SHIP business model at Harita Seating. With the help of a private investor, he is planning to set up additional turnkey SHIP projects at another one of Harita Seating's manufacturing facilities in Pune and on the premises of other automotive companies across the country.
Websites of companies mentioned in this article: