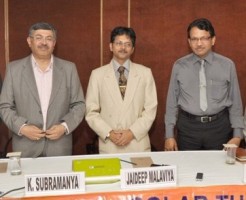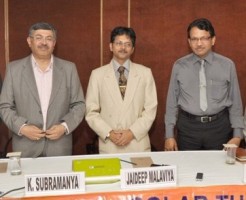 India: Official Launch of the New Solar Thermal Federation of India (STFI)
The picture above shows the board of the newly founded Solar Thermal Federation of India (STFI): STFI Chairman Krishnappa Subramanya (CEO of TATA-BP Solar), STFI President Jaideep Malaviya (consultant and journalist) and Vice-Chairman Hemant Revankar (Managing Director of Bipin Engineers).
Photo: Solar Thermal Federation of India
Announcing its recent foundation at a press meeting in New Delhi on 18 March 2010, 14 solar thermal manufacturers combined forces to establish the Solar Thermal Federation of India (STFI), setting up a broad platform platform for its sector: TATA-BP Solar, Bipin Engineers, Emmvee Solar, Sudarshan Saur, Nuetech Solar, Racold Thermo, Intersolar, Solchrome, BoroSolar, Photon Solar, V-Guard, Electrotherm, Kotak Urja and Akson Solar.
The members of the newly founded non-profit association STFI represent over 75 % of the market, making them a strong partner when dealing with the needs of the industry. The first president of STFI will be journalist and solar thermal expert Jaideep Malaviya. Krishnappa Subramanya, CEO of Tata-BP, and Hemant Revankar, Managing Director of Bipin Engineers, will be Chairman and Vice-Chairman, respectively.
The main reason for the industry's "get-together" was the National Solar Mission, which set a target of 20 million m2 of newly installed collector area by 2022. "STFI will develop an appropriate policy framework and a user-friendly financing mechanism to make this target a realistic one to achieve," announced Chairman Subramanya. In reaching this objective, STFI plans to closely coordinate its efforts with the Ministry of New and Renewable Energy, the Ministry of Power, the Ministry of Urban Development and the Ministry of Rural Development.
Besides the aforementioned, the founding companies also defined the following areas STFI is thought to focus on:
Enhancing the competitiveness of the Indian solar thermal industry by continuously investing in relevant R&D areas
Focusing on other applications for solar thermal systems besides covering residential hot water demand
Developing an industry-accepted certification programme for both installers and planners of solar thermal systems
For more information about the topic, please mail to info@stfi.org.in
The Federation's website http://www.stfi.org.in is still under construction