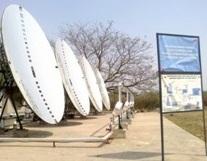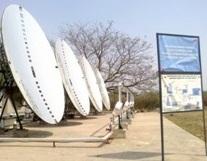 India: New Solar-Biomass Cold Storage and Power Generation System
One of the leading solar solution providers in India, Thermax, has just implemented a so-called solar-biomass hybrid demonstration project at the Solar Energy Centre in northern India. The cold storage and power generation system is the first of its kind worldwide. It comprises of a 15 kW (~5 tons of refrigeration) Thermax Vapour Absorption Machine (VAM), coupled with a field of Thermax SolPac D160 solar thermal tracking concentrators, as well as a 50kWel biomass gasifier system. The VAM uses both the heat energy from the solar parabolic concentrators and the waste heat from the biomass gasifier to cool the storage chamber.
Photo: Thermax
The chiller – a newly developed ammonia-based VAM has been developed primarily to cool agricultural produces in rural facilities. It was the first development project to showcase how solar thermal heat can work together with biomass (e.g., wood chips or agro-waste) in an agricultural country such as India. The system provides both the cooling for the storage chamber, as well as electricity through the 50 kWel biomass gasifier system.
The VAM is powered by either hot water from the solar field or the engine's exhaust. A gas-fired back-up heater is also part of the system, in case there is not enough heat to run the VAM. The chamber is able to store 20 MT of cold storage produces.The TRNSYS software was used to dynamically simulate the cooling of different fruits, vegetables and other produces.
Support for the project came from the Asia-Pacific Partnership on Clean Development and Climate (APP), the Indian Ministry of New and Renewable Energy (MNRE), The Energy and Resources Institute (TERI) of India and the Commonwealth Scientific and Industrial Research Organisation (CSIRO) of Australia.
Because the demonstration system's storage chamber can be cooled down to temperatures below 0°C, its application is open to a wide variety of fruits, vegetables and other plant products. If the implementation proves successful, the system has the potential to close a gap in India's agricultural sector.
Existing cold storage facilities can accommodateup to 21.7 million tons of agricultural products, whereas the volume needed amounts to more than 31 million tons – a shortfall of about 10 million tons. In addition, today's cold storage facilities are mostly designed to accumulate only one single commodity, such as potatoes, oranges, apples, grapes, pomegranates and flowers, etc., poorly utilising available capacities. Without a strong and reliable cold chain, a vital sector which is based mostly on perishable products – such as the food industry – cannot survive, let alone grow.
More information:
http://thermaxindia.com/Solar-Power-Business-Solutions.aspx