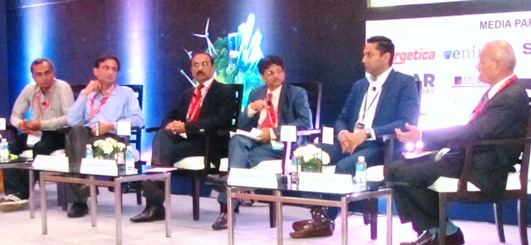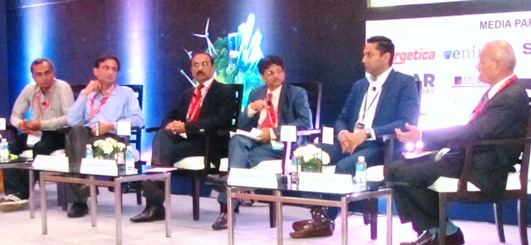 India: Industry Demands Equally Assertive Solar Thermal Publicity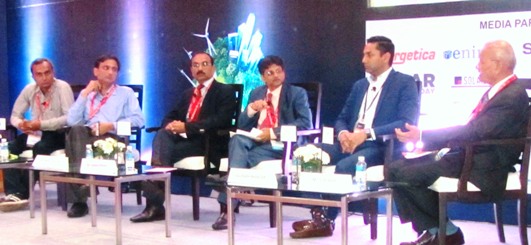 The Indian government should provide the same assertive publicity for solar thermal technology as it had for solar PV because the population still needed to be made aware of the benefits of solar water heating. This was the major concern raised during the panel discussion Policy and Regulatory Framework for Solar Water Heater Market Development in India moderated by Jaideep Malaviya (third from right), Secretary General of the Solar Thermal Federation of India (STFI). Five industry representatives took part in the event held during the Renewable Energy India Exhibition and Conference 2016 near New Delhi at the beginning of September (from left to right): Rigal Patel (Redsun Solar), Bhoovarahan Thirumalai (Aspiration Energy), Devinder Kaushal (Inter Solar Systems), Saurabh Bhandari (Solarmaxx) and Chandrakant Shah (Kosol Hiramrut Energies).
Photo: STFI
India's solar industry is growing fast, ranking amongst the top five growth markets in the world. However, the technology has seldom received attention, as much of the development has been focused on photovoltaics. The industry representatives emphasised that unlike PV – which generated power – solar water heating saved electricity, which was important for reducing families' power bills.
Bhandari, CEO of Solarmaxx, advocated an increase in print and social media activities, as there were various channels nowadays to reach a large number of customers. According to him, newspaper ads and stories were still an eye-catcher to attract potential clients.
Post-subsidy halt in mid-2014, the markets contracted, although the graph has once again started to move upward over the last 12 months despite oil prices declining, as per the statistics collected by STFI. Shah said that the "subsidy was introduced to create awareness and since homeowners had already accepted the technology as an essential commodity, the removal of the subsidy has hardly impacted business." Kaushal, Managing Director of Inter Solar Systems, confirmed that sales in hilly regions in northern India had dropped significantly since they had received 60 % capital subsidies.
Opinions were divided on the impact of the new and unique tax regime called
Goods and Services Tax
(GST). Redsun's CEO Patel said that the sales price would certainly rise, as there had been up to 5.5 % of VAT on these systems so far, as compared to 18 % as part of the proposed GST. System prices, however, might not change, since there could be an offset due to the reduction in raw material prices. If the government did not heed the industry's call for removing the GST, the manufacturers would face the challenge to keep prices affordable, they confirmed during the panel discussion.
Patel called on municipal corporations to make it a priority to amend byelaws and mandate the implementation of solar water heaters for all residential newbuilds. The CEO referenced the success story of
Rajkot Municipal Corporation
.
Although the solar thermal industry will still have some difficulties to overcome, the positive attitude of industry stakeholders will turn the go-ahead into a smooth ride.
Websites of companies and institutions listed in the article:
Redsun Solar: +91-8046062421