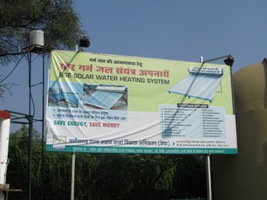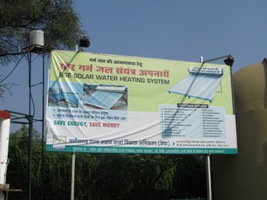 India: Huge Effect of Print Media Publicity on Market Development
The last 5 years have seen a strong growth in India's solar thermal market. While adverts in television, the radio, as well as the print media are all very popular forms of raising public awareness in India, thanks to the growing literacy rate, newspaper advertisement was found to be the most effective channel to disseminate information about the solar thermal sector. Some states, such as Maharashtra, put up advert hoardings at prominent places in large cities. The poster seen in the photo lists the registered manufacturers, including their contact number.
Photo: Jaideep Malaviya
According to the World Association of Newspapers (WAN), India ranks third after China and Japan with its 19 different daily, paid-for newspapers nationwide. These papers in Indian languages have overtaken the sales of the English speaking press in India, as per the latest National Readership Survey (NRS). Leading daily titles, such as The Indian Express and The Times of India, publish at least two features a year about solar energy systems, which helps disseminate information about them throughout the public. The adverts in the print media usually display a list of manufacturers in the advertised state. Since last year, major manufacturers have also started advertising for various types of solar water heaters.
To raise awareness about New & Renewable Sources of Energy (NRSE) among the public, the Federal Ministry of New and Renewable Energy (MNRE) has established a separate department called Information and Public Awareness (I&PA). According to official announcements of I&PA, the annual budget spent in 2010 was Indian Rupees (INR) 0.19 billion (around EUR 3 million). Although no part of the budget was specifically reserved for solar thermal, the technology received broad attention. The programme is implemented through existing governmental channels, such as the State Nodal Agencies and the Directorate of Advertising & Visual Publicity (DAVP), as well as via television, the radio and postings.
According to Davinder Kaushal, General Manager of Inter Solar Systems Ltd (a leading manufacturer of solar water heaters in northern India) advertisements have definitely helped raising awareness levels. But more than that, they have provided useful information, and aroused curiosity among the public.
The energy agencies on the state level, too, are active in the field of awareness raising:
The Maharashtra Energy Development Agency (MEDA) spent nearly INR 4 million (almost EUR 1.5 million) during 2010, although the data does not specifically tell which part of that amount was intended for solar water heaters. Recently, they have put up advert hoardings at prominent places all around the state's larger cities.
The Chhattisgarh State Renewable Energy Development Agency has set up advert hoardings in frequently visited public parks.
The state agencies of Gujarat and Karnataka have spent a lot of money on advertisings in newspapers.
And last but not least: The Department of Posts has launched its own campaign to further popularise solar energy use, by printing a simple message on its post boxes: "Solar Energy for a bright Future" (see photo above).
Photo: Jaideep Malaviya
More information:
http://mnre.gov.in/adm-approvals/information_Public-2010-11.pdf
http://www.davp.nic.in/
http://www.publicitas.com/en/