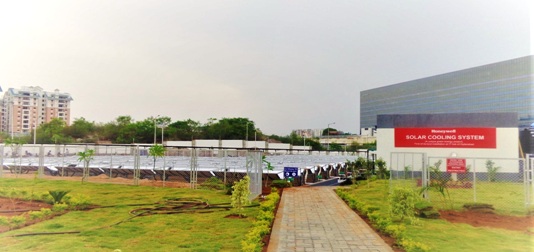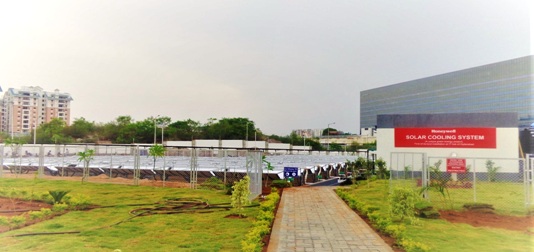 India: Honeywell Successfully Showcases Solar Cooling Project
Typically, lighting and air conditioning account for more than half of overall electricity consumption in India's industrial offices. As applications in industry have been hit with the highest tariff of all power consumers, it will need new solutions to reduce the electricity demand of conventional AC systems. To this end, Honeywell Technology Solutions based in Hyderabad in the southern state of Telangana has been operating a pilot project for solar thermal cooling since March 2013. The lithium-bromide chiller is connected to 128 parabolic trough collectors, each with a reflector area of 6.41 m², and provides air cooling at temperatures between 21 °C and 23 °C for six months a year. The collectors were delivered by the solar energy division of Indian manufacturer Thermax. 
Photo: Honeywell Technology Solutions
Honeywell Technology Solutions is the Indian subsidiary of US-based corporation Honeywell International. Nearly half of its product range has been dedicated to the provision of energy solutions, be it for biofuel applications, green buildings or energy performance contracts. With around 15,000 staff in 50 cities across India, the business generates a turnover of USD 1 billion.
A recent presentation by Honeywell staff summed up the experiences made with the above-mentioned solar thermal cooling installation: "The system is performing at up to 90 % of its efficiency target at peak irradiation levels and it is an option worth exploring, although the payback period is rather high." As it is a pilot project, the operators from Honeywell are still implementing various innovative measures to optimise system performance. The total investment was about EUR 220,000 (INR 15,320,000) and the project received EUR 96,000 (INR 6,678,000) in grants from the GEF-UNDP programme.
Diagram of solar thermal cooling at Honeywell in Hyderabad
Source: Honeywell
The parabolic trough collector field delivers water at 165 °C to a Thermax double-effect vapour absorption machine (VAM), which has a capacity of 100 tonnes of refrigerant. This VAM introduces chilled water at 9.55 °C into the cooling circuit, which the electric compression chiller is a part of. Air cooling is used to control the temperature in the offices within the building. The installation provides cooling for, on average, around 5 hours a day at peak irradiation levels. In its four years of operation, it saved 1.33 million kWh. Thermax calculated daily thermal coefficients of performance (COPth) of 1.4 and electric COPs of 4.5 and 5. These values are averaged over the whole year and based on a small number of sunshine hours in comparison to the total hours of operation of the cooling system.
During the rainy season in June, July and August and at weekends, meaning when there is no or low demand for cooling, the parabolic trough collectors are defocused manually to avoid stagnation.
More information: