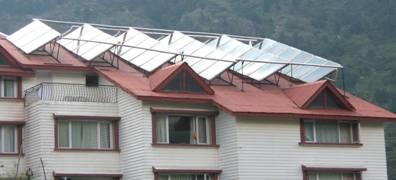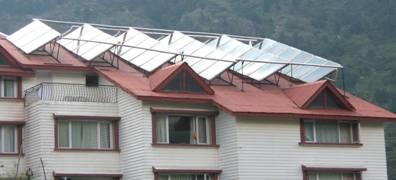 India: HIMURJA as Inspirational Model for Market Development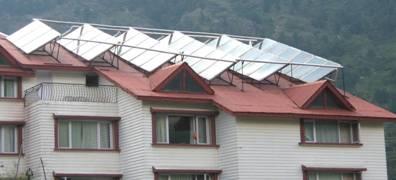 The Himachal Pradesh Energy Development Agency (HIMURJA) has recently received the award  for the best state-based nodal agency in the areas of promotion and market development of solar water heaters from the Indian Ministry of New and Renewable Energy (MNRE). The state of Himachal Pradesh in the north of India has so far achieved a collector area of 12,550 m2. Nearly 75% of these installations have been set up over the last 3 years. The region's scenic and peaceful landscape makes it a popular tourist spot. Most of the territory is more than 1,000 meters above sea level and is covered by mountains. The photo shows the collector installation on the roof of the Apple Country Resort in Manali, Himachal Pradesh.
Photo: Jaideep Malaviya
A study carried out by HIMURJA found that the people in an average household use between 3 and 5 kg of firewood every day to have a bath, wash clothes and clean dishes. With a large part of the Himalayan region facing a firewood shortage because of widespread deforestation, women and children are forced to walk long distances to collect the necessary amount of biomass fuel. In response to this difficult situation, MNRE has granted an increased subsidy of 60 % of the investment costs for residential solar water heater across Himachal.
HIMURJA has successfully demonstrated the concept of community solar water heaters at three different sites throughout the region. These systems supply 15 households with about 750 litres of hot water per day. The data collected from the first year of operation showed the seasonal variation in hot water withdrawn from the collectors, as well as a daily load profile of hot water use. An analysis of the data pointed to life-cycle costs of INR 0.12/litre for solar-supplied hot water. This ratio is far better than using firewood as a fuel source.
Private households, however, are not the major target group for solar thermal technology. It is the hotel industry that has been identified as the sector with the best long-term potential. "Tourism is a very big industry in Himachal Pradesh. We can't wait to promote eco-tourism by adopting renewable energy technologies," Harsh Mitter, CEO of HIMURJA, says.
A study conducted by Indian consultancy Greentech Knowledge Solutions  in 2011 showed that the solar thermal market in Himachal Pradesh has been in a good position – primarily because of a well-developed sales and service network of a few solar water heater suppliers which address the hotel sector. The author of the study calculated an enormous number of 51,928 hotel rooms and an annual hot water requirement of 5.2 million litres. The following table shows that only 9 % of this solar energy potential has been tapped so far.
Total hot water demand
(litres per day)
SWH capacity
installed in hotels
(litres per day)
Penetration
5,200,000
450,000
9%
Market penetration of solar water heaters in Himachal Pradesh's hotel sector
Source: Greentech Knowledge Solutions
"We will strive to do our best to tap industries such as the hospitality and medical sector. This is expected to indirectly create or grow awareness of solar thermal technology among the public," Mitter describes the next steps. The new policy frame conditions in the country will support these objectives. The Himachal government has recently passed a byelaw which makes solar water heaters mandatory in all new housing complexes, hospitals and nursing homes, hotels, community centres, educational institutions, universities, as well as in industries which mainly use hot water to run their processes. The state government is also planning to turn the capital cities of Shimla and Hamirpur into solar cities – a master plan for the twin projects is already in preparation. Meanwhile, Mitter is inviting solar water heater manufacturers "to come to Himachal Pradesh and set up manufacturing units of solar energy systems in order to profit from this dynamic development".
http://himurja.nic.in/
http://www.greentechsolution.co.in