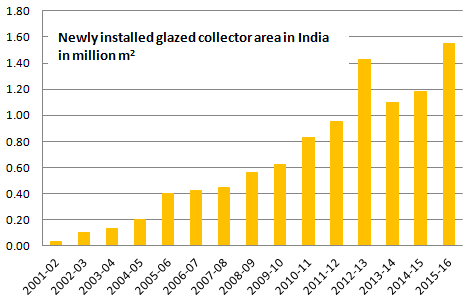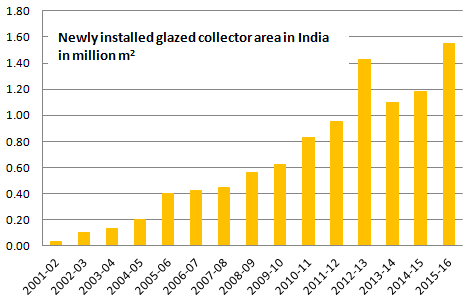 India: Growing Demand for Vacuum Tube Technology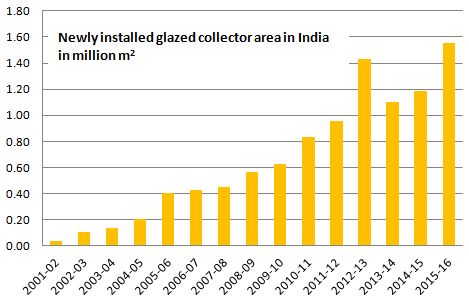 The Indian market has started to show signs of recovery in the previous financial year from April 2015 to March 2016. A survey carried out by Indian consultant Jaideep Malaviya found the newly installed collector area to have reached a total of 1.55 million m² (1.085 MWth). The share of vacuum tube based systems had been rising steadily and was almost 90 % of the overall low temperature solar collector market in 2015-2016. Assuming some of the older systems are non-functional, the cumulative market was 8.9 million m² in at the end of March 2016. 
Source: MNRE up to and including 2013-2014, market survey by Jaideep Malaviya 2014-2015 and 2015-2016
As with the
financial year before
, Malaviya estimated the market volume of vacuum tube systems based on the number of tubes imported under all four HS codes (see the table below).
This number added up to 7,011,134 from all four Harmonised System (HS) codes, including imported tube parts and tubes in assembled systems. Most of these tubes have a diameter of 47 mm, a length of 1,800 mm and an active surface area of 0.133 m², which results in a total tube area of 932,480 m² for 2015-2016. The factor to convert vacuum tube into gross collector area is 1.5, which means that the around 7 million imported tubes correspond to around 1,398,721 m². A small percentage of around 2 % of imports was for non-solar thermal applications.
HS Code

Month

84191920 

84199090 

84199010 

84191910 

Apr 15

19,990

170,039

May 15

5,344

207,651

June 15

13,675

199,729

13,400

July 15

126,664

127,438

Aug 15

1,300

140,724

184,963

Sep 15

24,844

217,634

199,917

18,000

Oct 15

65,314

408,340

19,350

Nov 15

242,063

273,295

2,000

Dec 15

164,331

527,856

26,400

Jan 16

6,720

130,070

604,681

13,040

Feb 16

249,634

416,763

1,759,256

Mar 16

13,760

207,672

209,277

66,614

1,563,125

3,529,949

1,851,446
Data on vacuum tubes imported to India under various HS codes during 2015-2016
Source: Import statistics of Legumex Impex (www.zauba.com)
A brief survey among some of the leading flat plate collector manufacturers has revealed that their overall business had either gone down or had them barely sustaining, which means a lot of importers have been entering the market in the meantime. Locally produced flat plate collectors were a niche market in 2015-2016, with only 172,000 m² of those having been installed across the country.
There is also the overall feeling that plenty of sub-standard solar water heaters have penetrated the market. A strict enforcement of quality standards is urgently needed and the ones already devised by the Bureau of Indian Standards should be enforced immediately and become mandatory in order to ensure that only high-quality systems are shipped from abroad.
Electricity prices are still on the rise and solar collectors have proved themselves as the best energy-saving device for domestic water heating. Under these circumstances, the market is likely to witness an increase over the coming decade and with growing demand for vacuum tubes, domestic manufacturing should become viable and the industry should be taking full advantage of the incentives by the current government's Make in India programme.
Jaideep Malaviya, an expert in solar thermal based in India (malaviya@solrico.com), contributed to this article.