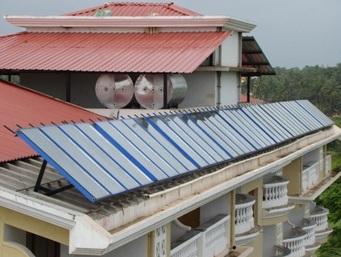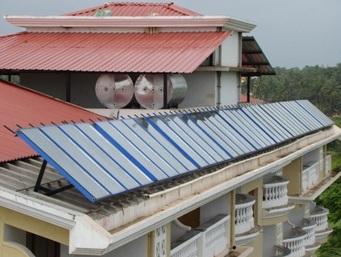 India: Goa Hotel Sector Discovers Solar Thermal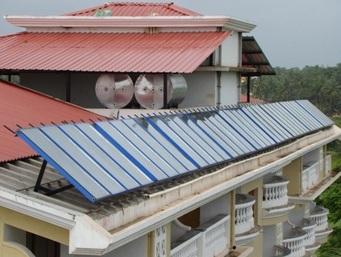 When you hear about Goa, the conversation has probably something to do with holidays in India. The small state at the west coast is quite popular with tourists from around the globe. Goa is said to have attracted more than two million visitors in 2012. About 1.2 million of the guests were from abroad, which is almost 13% of the total number of foreign tourists who visit India every year. This is why it should come as no surprise that tourism represents the main source of income for both the state's government and its residents. On the other hand, the state relies 100% on other Indian states for its supply of energy, as Goa has no electricity generation of its own. With electricity remaining an issue on the government's agenda, substituting outside electricity with local solar water heater systems may contribute to save energy in the state. The photo shows the solar thermal system installed at Goa's Joecons Beach Resort.
Photo: PANH2O Solar
Given the circumstances, Goa's hospitality sector has come to appreciate solar collectors that are approaching commercial viability. The state witnessed installations close to 50,000 m² during 2012 and according to the Goa Energy Development Agency (GEDA), nearly 65% of these were done in the hospitality sector.
Although the state electricity tariff is not high, the erratic power supply has made the use of solar systems all the more necessary. Prabhav Naik, owner of PAN H2O Solar, one of the largest collector suppliers to Goa's hotel industry, emphasises the fact that hotels recover investments in electricity substitutes in 2 to 3 years if their occupancy rate is between 80-90 %. And, the accelerated depreciation of 80% for hotels makes the use of solar energy even more profitable.
The appeal of solar thermal can be judged according to one of its oldest systems with 16 m² of collector area: Installed at Hotel Linda in 1995, it is still in operation. The system's owner, Sabio Valice, attributes the long lifetime to regular maintenance intervals.
In February 2011, Goa's Majorda Beach Resort set up the state's so far biggest solar thermal system comprising of 3,000 collectors. To supply the hotel's rooms 24 hours with hot water, it generates 20,000 litres of 60 °C hot water per day. The hotel says it has been able to cut fuel costs by 50 %, except during severe monsoon times when the fuel-based boilers are still needed.
With more hotels to be set up in Goa in the near future, the outlook for solar thermal seems better than ever. Virtually every major manufacturer in the country has a dealer in Goa to serve the hotel industry. Mario Abreu, owner of the Surya Akshay Urja Shop, which trades in multiple solar brands, says that his shop has helped hotel owners to know solar energy and understand its advantages.
More information:
http://www.panh2osolar.com
http://www.joeconsbeachresort.com/
http://www.majordabeachresort.com
http://www.suryarenewable.com/