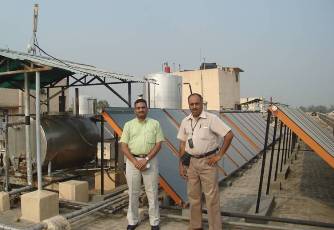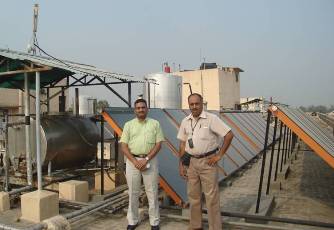 solar installation on the roof of Holy Family Hospital in New Delhi
India: First Solar Thermal Energy Service Company established
Shangmuganathan Srinivasan (right) is visiting the first solar thermal system his company Trans Solar Technologies (TST) is running as an Energy Service Company (ESCO). The system was installed on the roof of project partner Holy Family Hospital in New Delhi.
Photo: Trans Solar Technology
The Indian company Trans Solar Technologies (TST) looks back at its first successful year of running a solar thermal system as an Energy Service Company (ESCO). Back in February 2009, TST installed a solar thermal system with a capacity of 15,000 litres per day on the roofs of the Holy Family Hospital (HFH), New Delhi. Shangmuganathan Srinivasan, the owner of TST, had decided to start a new business model by offering energy services to solar thermal commercial clients. HFH authorities had immediately agreed to the concept since it would reduce the high capital burden and the project became the first ESCO model for solar water heaters in India (see the attached presentation).
Back then, however, Srinivasan had found it difficult to get financing from designated national banks and the Indian Renewable Energy Development Agency (IREDA). He finally found a private investor who financed the project with a loan of Indian Rupees (INR) 1.5 million. The two business men agreed on a repayment over 5 years at monthly rates of INR 37,000.
TST had then signed an ESCO contract with HFH, requiring a monthly payment by the hospital of INR 51,000 over a period of 7 years. If the cost of natural gas used as a back-up is deducted from this amount, TST has received something between INR 40,000  and 45,000 per month. A clear winning situation for the client. The hospital had a monthly gas bill of INR 65,000 before the installation of the solar thermal system and is receiving the solar thermal system for free after the seven years. During this period, it is the ESCO which is in charge of maintaining the solar technology and guaranteeing hot water supply.
The successful model has already attracted other prospective customers. "We have received requests from more than 5 commercial clients for a total solar water heating capacity of more than 20,000 litres per day," Srinivasan announces. The head of TST also says that banks are now welcoming ESCO´s projects and have come forward to support their financing. In his opinion, ESCO has a bright future in India.
More information: http://www.transsolartechnologies.com