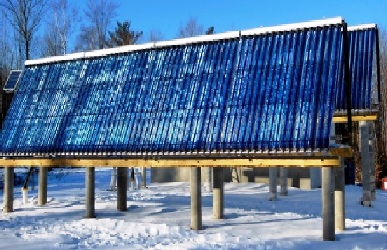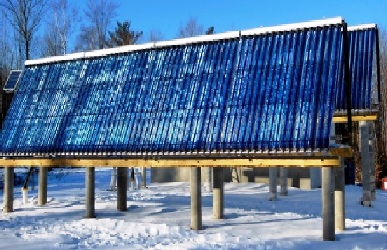 India: First Solar Process Heat Systems with CPC-Mirror Vacuum Tube Collectors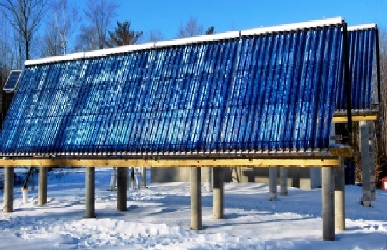 India has been witnessing renewed interest in solar thermal in the wake of some successful installations. Dish-type concentrating systems have the potential to generate hot water above 100 °C. But in many places, insufficient space or unsuitable roof structures are roadblocks to increased deployment. Several Indian start-ups have used evacuated tube collectors (ETC) with compound parabolic concentrators (CPC), popularly known as non-imaging collectors in India, for solar process heat applications which require medium-pressure steam at around 150 °C. These collectors consist of evacuated double-glass tubes with bent aluminium mirrors underneath. The CPC mirror guarantees that fewer tubes are required per unit area and over 90 % of the gross collector area is used optically. So far, the aluminium sheets for the systems have been imported, but one local manufacturer will start operations soon. 
Photo: Oorja
One of the start-ups using the technology is Oorja Energy, which was founded in 2010 and is based in the southern India city of Hyderabad. Oorja is a manufacturer of parabolic trough systems and has recently begun work on two projects based on ETC CPC technology.
Payback time below 4 years for solar-heated metal degreasing
A 110 m² ETC CPC field was installed at axle and transmission manufacturer TML Drivelines, which employs industrial-scale washing machines to clean metal parts and degrease them by electrical heating with hot water at 90 °C. The solar heat saves, on average, 400 kWh of electricity per day, which lowers the payback period of the INR 300,000 investment (around EUR 42,000 EUR) to below four years, assuming an accelerated 80 % depreciation benefit. At present, the collector field provides heat only during the day, but will soon be used at night-time with the help of a 2 m³ buffer tank. Oorja´s Managing Director, Madhusudhan Rao Rapole, said that the "majority of the industrial sheds in India have south-facing sloping roofs to allow daylight to enter. This makes them ideal for considering an ETC CPC system." Oorja is a company focusing on turnkey solar process heat installations.
The same manufacturer also set up a 500 m² ETC CPC space heating system for a 200-people shelter of the Indo-Tibetan Border Police in northern Ladakh. Ladakh is a cold desert in the Himalayan region, offering a clear, sunny sky for 320 days a year. The solar system has been integrated into the diesel-fired hot water generator. Thermal oil is used as a heat transfer fluid and a 35 m³ buffer tank stores energy for intermittent usage. A radiant heating system (pipes embedded in the floor) provides space heating and is more efficient than an air-based heating installation. The specific yield of the collector field is around 780 kWh/m² based on normal surface irradiation of 1 kW/m² during 225 days in operation throughout a year, at 5 hours per day and 70 % collector efficiency. Economics have been far better than for a solar electricity heating system and the space required is only 1/3 of that of a solar PV unit.
Payback time with investment subsidies below 3 years for textile factory unit 
A.T.E. based in the southern Indian city of Pune is another start-up to have recently set up an ETC CPC system, a 44 m² roof-mounted installation at garment manufacturer Frontier Knitters in the southern Indian state of Tamil Nadu. This system will generate 1,500 litres of hot water per day at 95 °C and save about 5,000 litres of diesel annually. The heated water is used as boiler feed water to generate steam at various stages of garment manufacturing. To ensure heat is available on demand, there is also an insulated hot water storage system. The entire installation will have a payback period of below three years when considering the investment subsidy from the Ministry of New and Renewable Energy.
A.T.E. has been a supplier of various engineering services in the field of air, water and energy since 1939. Solar thermal process heat is a small business segment of the company, as it has hardly been five years since A.T.E. started focusing on solar energy solutions for large-scale laundry applications.
Websites of companies mentioned in this article: