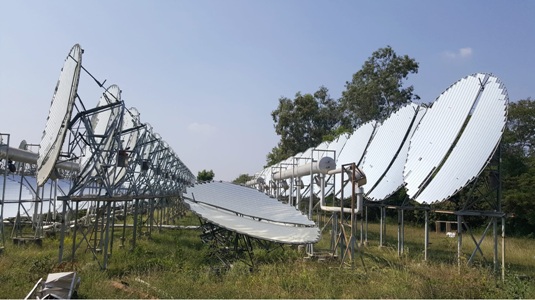 India: First Mirror Manufacturer for Concentrating Collector Application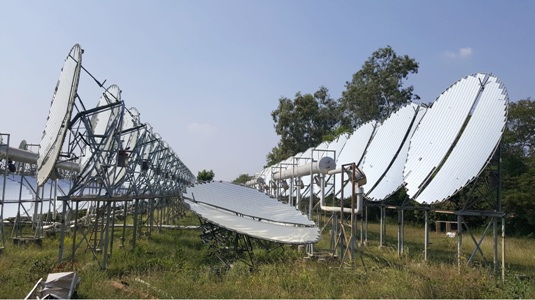 ARS Glasstech based in Gujarat state in western India has become the first domestic glass mirror manufacturer for concentrating solar thermal collectors. So far, Indian manufacturers of dish collectors had been dependent on mirror imports for their high-temperature applications. The unique selling point of ARS Glasstech is its delivery of mirrors in the small sizes required to set up concentrating dishes typically used in India. Glass is cut by CNC glass-cutting machines and sealed at the sides. The photo shows the first retrofit project with ARS mirrors, during which 1,250 m2 of mirror surface area of the solar thermal air-conditioning system were replaced at Kailash Cancer Hospital in Gujarat. The retrofit had the financial support of the GEF-UNDP CSH PROJECT.
Photo: ARS Glasstech
Made in India by ARS Glasstech is a big step forward in quality assurance for the country's solar thermal industry. Concentrating collector manufacturers had so far been dependent on a handful of global suppliers of solar mirrors consisting of low-iron glass for good transmission and a resistant reflective coating at the back of the mirror for high efficiency. The global producers mainly aim at solar power plants and, hence, usually deliver mirror sizes of 10 m2 and more. Transporting such large mirrors is expensive. In addition, the domestic concentrating collector manufacturers need mirrors in much smaller sizes to construct the dishes, which means they have to cut the mirrors into the desired sizes and seal the sides. This is where the quality issue came into play. Commonly used water-proof sealants in the solar thermal industry merely last for around three years; after that time, moisture and particles degrade the back coating of the mirror glass, meaning the mirrors had to be replaced after only several years in operation.
"The lifetime of mirrors was a major issue for concentrating solar thermal systems in India," confirms Rajesh Verma, CEO of ARS Glasstech. "Deepak Gadhia, one of the early developers of Scheffler dishes in India, guided us toward accepting the challenge of creating Make in India mirrors." ARS mirrors have been certified by an SGS laboratory in Switzerland, and the National Institute of Solar Energy (NISE), Gurgaon. The company gives a warranty of five years. "We undertook considerable research on the failures of mirrors and after thorough analyses, we now have a highly trained team, an engineering facility as well as technical expertise that enables us to offer a product which will satisfy the needs of the industries."
Besides the retrofit project at the Kailash Cancer Hospital, the GEF-UNDP programme has also been supporting three other concentrating systems (see the following table). The funding regulations are described in the attached PDF. ARS mirrors have also been used successfully in other new projects by several manufacturers. The mirror supplier is planning to export the technology as well.
Beneficiary
Area under
renovation
Application
Kailash Cancer Hospital, Goraj
1,250 m2
Cooling
Manthan Physical Disability Center, Gandhinagar
64 m2
Steam Cooking
Shantikunj Community Center, Haridwar
160 m2
Steam Cooking
Vocational Training Center, Valsad
64 m2
Steam Cooking
Mirror-replacing projects supported by GEF-UNDP
Websites of companies and institutions mentioned in this article:
http://www.sgs.com
http://www.arsglasstech.com/