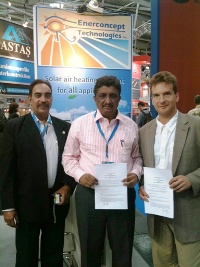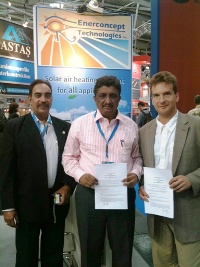 India: Exclusive Distribution Agreement for Canadian Air Collectors
CEO Tygamundlu Anant (left) and Managing Director Surendra Kumar (centre), both from Nuetech Solar, India, signed an exclusive agreement with Christian Vachon, President of Enerconcept Technologies, Canada, about introducing the solar air heating collector Lubi in India.
Photo: Nuetech Solar
The agreement between Indian solar water heater manufacturer Nuetech Solar and Canadian air collector manufacturer Enerconcept was signed at the Intersolar Europe in Munich in June, after six months of preparation talks. The distribution agreement refers to the newly developed and patented Lubi air collector, which consists of a perforated, transparent plastic cover.
Depending on the requirements, the product can be mounted either to the wall or roof. Nuetech Solar is planning a few demonstration projects this year, using Lubi in solar air heating projects. The company will also explore the Canadian product's possible use in drying processes and industrial process applications.
"The Lubi collector is really perfect for drying, because it not only allows increasing the temperature as high as 45°C above ambient, at very low cost, but also because the produce to dry will be exposed to sunlight through its transparent cover," Christian Vachon, President of Enerconcept Technologies, explains.
Of the 456 million tons of vegetable produced in the world, India's share is at 59 million tons, making the country the second largest vegetable producer after China. According to IndiaAgronet, drying and exporting vegetables will become a key business factor in India in the 21st century. Solar drying is expected to increase output and improve the quality of the production in rural agriculture.
More Information:
http://www.nuetechsolar.com/