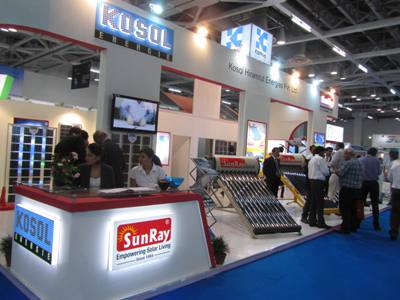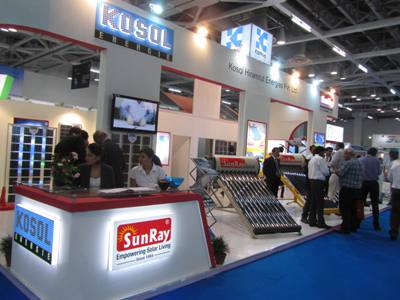 India: Chinese Manufacturers Dominate Solar Business at REI Expo 2014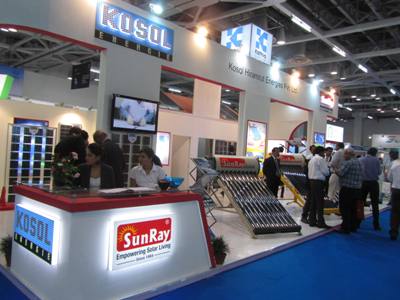 Solar energy played a very prominent role during the 8th edition of the Renewable Energy India (REI) Expo 2014, which took place in the National Capital Region at the beginning of September: Close to 60 % of the nearly 375 booths presented solar PV and solar thermal technology, whereas the share had been a mere 15 to 20 % a few years ago. This year's trade fair also saw an increasing interest in low-temperature solar thermal products. Most of the 50 exhibitors offering goods in this segment were vacuum tube and collector manufacturers from China. Donthi Manjunatha, Managing Director of Emmvee, whose company has been a regular exhibitor since the first expo, says "that fairs are the best opportunity to meet commercial clients searching for customised large-scale project solutions." The conference organisers, however, failed to find any speaker from the solar thermal industry, despite the technology's maturity and national importance.
Photo: Malaviya Solar Energy Consultancy
There has been an intense debate among Indian solar water heater suppliers over the impact of Chinese imports. It seems that in September, the Chinese government classified vacuum tubes as pertaining to HS code 7020009990 Glass, whereas solar tubes have so far been categorised as solar water parts, HS code 84199010. This means that some provinces in China no longer grant the 17 % export duty exemption, and Chinese vacuum tube suppliers in India have increased prices by around 10 %. Interestingly, if vacuum tubes are exported as a part of the complete water heating system, the exemption is still available.
Chinese Vacuum tube suppliers increase prices by around 10 %
Most of the REI 2014 exhibitors from China claimed that the change in export duty will not affect their exports to India. Tony Liao, Sales Manager at Haining Chaoda Solar Collector Tubes, explained that "the variety of vacuum tubes we offer attracts several manufacturers from India, and it is a delight to do business in India." A representative from Chinese vacuum tube and collector manufacturer Westech Solar regarded India as one of the largest export markets, in which his company will carry out large-scale marketing campaigns. Westech Solar has already witnessed a 20 % rise in business enquiries from the country.
From manufacturing to importing complete Chinese systems
However, the situation is more complicated for Indian assemblers of thermosiphon systems that are based on imported vacuum tubes. Some companies see the danger of becoming mere importers of complete Chinese solar thermal systems and losing out as manufacturers. Because of the new HS code, there is going to be a countervailing duty of 12.85 % on vacuum tube imports, so that these will become 20 to 30 % more expensive.
The current situation has created an especially difficult market environment because India recently halted its 30 %-subsidy programme. Unless the Indian government imposes import controls on complete Chinese solar water heaters, these systems will likely become cheaper than domestic products.