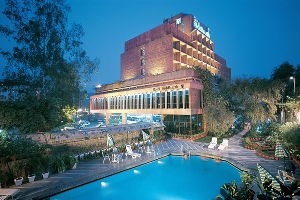 JP Siddhartha Hotel
India: Best Practise Applications for Hotels
Profiting from cost-effective solar thermal technology: The JP Siddhartha Hotel in the city of Gurgaon, Haryana, runs a 56 m2 collector system supplying solar energy for the domestic hot water demand of the hotel. The investment of INR 490,000 will pay off in less than 2 years.
Photo: http://www.jaypeehotels.com
According to a presentation held by Indian solar thermal system manufacturer Emmvee Solar Systems Pvt Ltd in New Delhi in December 2009, the common payback period for solar systems in Indian hotels ranges between two and three years. The company presentation providing key figures for several installations of solar thermal systems in hotels in India can be found attached to this node.
Hotel

Best Western

JP Siddhartha Hotel

Location, State

Gurgaon, Haryana

Gurgaon,

Haryana

Number of rooms

400

94

Installation year

of the solar thermal system

2008

2008

Generated volume

14,250

litres

per day
3,500

litres

per day
Collector area
(62

litres

per day/m2)
228 m2
56 m2

System Type

Thermosiphon

Pumped system

with boiler backup

Application

Hot water supply for

bathrooms

and

kitchen

Hot water supply for

bathrooms

System Costs

2,775,000 INR

490,000 INR

System Costs

44,312 EUR

7,824 EUR

Specific costs per m2 of collector area
194 EUR / m2
140 EUR / m2

Savings of electricity

775 kWh / day

175 kWh / day

Savings
(5 INR per kWh

, with

340 days per year)

1,317,500 INR / year

297,500 INR / year

Payback Period

2.1 years

1.7 years
Key figures for two of Emmvee's solar thermal system installations in hotels. INR stands for Indian Rupees.
Source: Emmvee
The table above shows two cases from the city of Gurgaon: The Best Western Resort Hotel, one of the largest hotel complexes in the Gurgaon NCR region with 400 rooms, and the JP Siddhartha Hotel in the same region with 94 rooms. Originally, these hotels used electricity and a diesel boiler to cover their hot water demand.
Emmvee calculates payback periods by the following formula: electricity savings through the installed solar thermal systems times the average electricity costs of 5 INR/kWh. "The exact pay back time depends on the system costs and the electricity tariff," Vijay Kumar, Head of Marketing and Sales at Emmvee, explains. "Most hotels choose a 70% room occupancy as the limit for covering hot water demand by solar thermal systems."
Emmvee Solar was established in 1992 and, all in all, employs 500 people. Its new plant in Bangalore includes a factory for tempering glass, as well as a tank and a collector production unit.
More information:
http://www.emmveesolar.com
Text was written in cooperation with communication specialist Hanna Schober, based in South Africa. Schober@solrico.com