IKEA stores begin to switch over to solar heating and cooling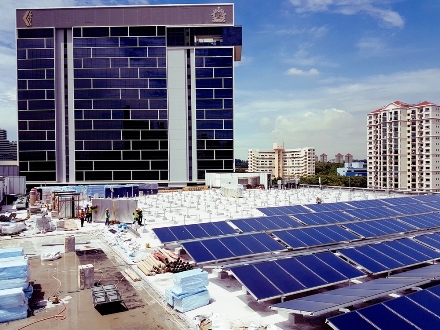 IKEA, one of the world´s biggest home furnishing retailers, has demonstrated a strong, long-term commitment to climate protection. By 2020, the company intends to generate as much energy from renewables as it consumes in day-to-day operations. While most of the electricity is now generated from renewable sources, IKEA's store managers have not lost sight of the heating part of the equation. Two locations, one in Singapore (see photo) and one in the Russian Omsk region, have recently announced the completion of new solar heating and cooling installations.
Photo: S.O.L.I.D.

IKEA Singapore inaugurated its solar thermal cooling system on 7 February 2018. It consists of a 2,475 m² flat plate collector field with a capacity of 1.73 MW and 15 m³ of heat storage, which run an 880-kW absorption chiller (250 RT) delivered by Chinese-based Broad. The system is thought to reduce the peak cooling load required for two sales floors, a small office and, additionally, a warehouse, which used to be equipped with mechanical ventilation. So far, air conditioning has been powered by 4 compression chillers (4 times 300 RT), two of which are rather old units from 1995 and only operate as backup sources.
The entire solar thermal cooling unit had been designed by Austrian-based turnkey system supplier S.O.L.I.D., which also supervised the installation and was responsible for commissioning. Simulations by the supplier showed an annual solar yield of 1,587 MWh, which corresponds to a specific yield of 641 kWh/m²a. S.O.L.I.D. expects a 30 % solar fraction in relation to the increased cooling demand.
Ideally, the thermal efficiency or coefficient of performance (COPth) will be at 0.76. "Our experience with the integration of similar-type Broad absorption chillers tells us that the annual average COPth will be around 0.7," explained Christian Holter, CEO of S.O.L.I.D. The COPel, which specifies how much electrical power is required to provide a certain cooling output, is said to be as high as 14, whereas typical compression chillers run at a COPel of 2 to 3.

Collector installation on the roof of the IKEA shopping centre in Omsk, Russia
Photo: IKEA
In Omsk, in southern Russia, close to the border with Kazakhstan, IKEA has had 20 vacuum tube collectors installed at one of the 14 full-scale shopping centres the corporation owns in the country. The 40-kW installation – which, according to retail.ru, had been finished by October 2017 – reportedly meets the entire hot water demand in the building. The manager of the shopping centre, Vladimir Miroshnichenko, was quoted as saying that the installation had been the "first solar collector field of this size and technical complexity installed in Omsk." In an IKEA press release, it was said that the system was planned to be expanded to 162 collectors and a capacity of 300 kW.
Organisations mentioned in this article:
Eugene Gerden, a Moscow-based freelance journalist specialising in renewable energies, contributed to this article, providing the information about the project in Omsk.