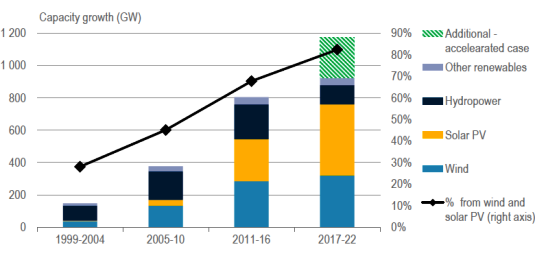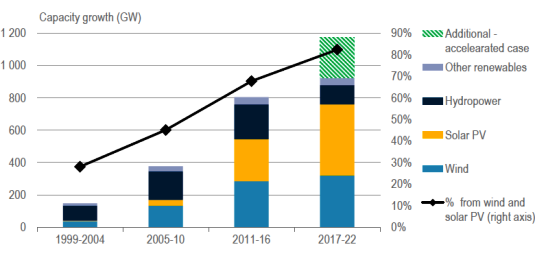 IEA´s Renewables Outlook 2017-2022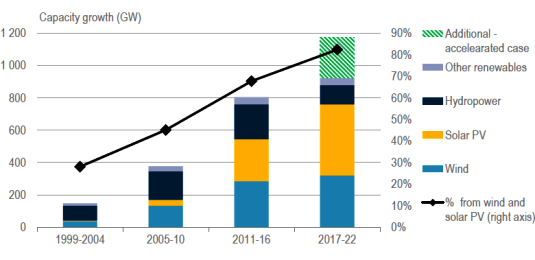 The IEA's Renewables 2017 market report was launched in London in early October. The document, which had been called Medium-Term Renewable Energy Market Report until last year, is published annually and forecasts market development in renewable electricity over the next five years (2017 to 2022). Considering that renewable markets are closely linked and politicians are increasingly looking for cross-sector solutions, we have compiled the IEA's most important conclusions regarding renewable electricity in this news article. A lack of data on renewable heating and cooling (RHC) means that the IEA does not provide a separate RHC forecast, but instead uses the World Energy Model results published in the annual World Energy Outlook.
Source: Renewables 2017
Solar PV will have the largest renewable electricity capacity additions in the period from 2017 to 2022, with wind and hydropower ranking second and third, respectively. The continuous growth in PV for six years, with one record year after the next, has led to renewables accounting for almost two-thirds of the new net power capacity around the world in 2016, with almost 165 GW coming online (75 GW from PV).
Competitive requests for tenders offering long-term contracts will be the driver of almost half of the world's new power capacity growth outside China (with its feed-in tariff) from 2017 to 2022. Competitive auctions effectively reduce costs along the entire value chain.
China, the USA and India will account for two-thirds of global renewable additions until 2022. The US market will not be influenced by President Donald Trump's policies, as growth relies on the federal tax credit scheme, which will remain in effect until 2021. PV demand in China doubled in 2016 and this tremendous increase will have implications on PV prices around the world. India´s forecast was extended because of the country´s move to address the financial health of its electricity utilities and tackle grid integration issues.
Europe's renewable power capacity is forecast to increase by over one-fifth until 2022, particularly in Germany, France and the UK, with the pace of growth being gradually dictated by auction schedules at fixed volumes. The beginning of 2018 will see the announcement of new expansion plans beyond 2020, when the new RES Directive is approved.
The IEA reduced the 2017-2022 forecast for renewable electricity additions in Brazil because of auction and contract cancellations, a result of the country's economic difficulties. In contrast, tendering opportunities in Argentina and Chile will drive new capacities, although grid integration and financing remain a challenge.
CSP capacity additions in 2017-2022 will be concentrated in newer markets. Whereas Spain and the USA dominated the market in 2016, the IEA expects noteworthy activities in China, South Africa and Morocco (among others). Parabolic trough is on the decline, while contractors are beginning to favour solar towers and increases in storage hours.
The onshore wind maintenance market will have doubled in size by 2022, growing from around USD 10 billion to 20 billion. Current company transactions reflect this trend, as manufacturers have been purchasing service providers.
China will account for almost 90 % of the global power consumption from electric vehicles in 2022, mostly from two- and three-wheelers, and will remain the largest electric car market, followed by Europe and the United States. Only 30 % of the electricity in the transport sector will be sourced from renewables by 2022.
Please find the MTRMR 2016 attached to this article. The key findings of the Renewables 2017 market report are available
online
.