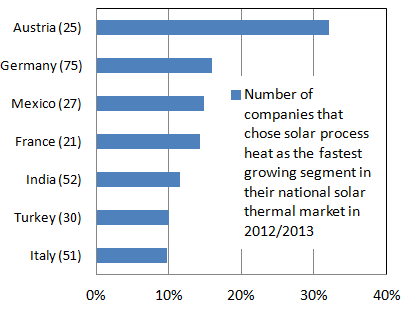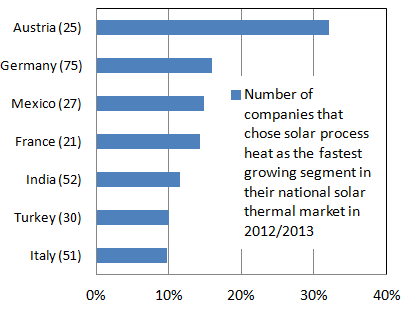 IEA SHC: Attractive Solar Process Heat Markets
Which countries are currently attractive markets for solar process heat? Different sources give different answers to this question. The chart above shows the assessment of the solar industry. More than 30 % of the Austrian solar collector manufacturers in the two surveys in 2012 and 2013 assumed that solar process heat was the fastest-growing segment in their national market. More than every tenth manufacturer in Germany, Mexico and France shared their opinion. The figure in brackets behind the country stands for the number of surveys analysed. Some of the countries, such as Germany, India, Mexico and France, have a support scheme in place which focuses on solar process heat systems.
Chart: solrico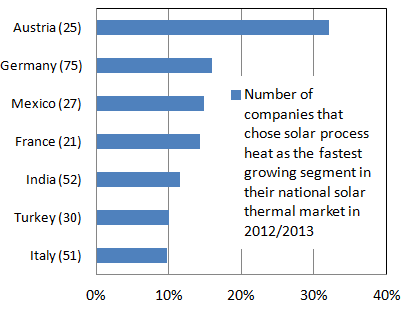 The most
comprehensive online database
of solar process heat projects is the website
http://www.ship-plants.info
. The database was set up within Task 49
Solar Process Heat for Production and Advanced Applications
of the IEA Solar Heating and Cooling Programme. It includes 155 solar process heat projects (as of May 2015) with a total solar thermal capacity of 101 MW
th
.
Country

Total collector area of

solar process heat projects [m²]

No. of solar process

heat projects

Average project

size [m²]

Chile

39,740

2

19,870

China

29,051

9

3,228

USA

23,993

18

1,333

India

9,140

15

609

Austria

7,840

23

341

Greece

5,553

10

555

Germany

4,774

21

227

Spain

4,089

14

292
Database ranking of the countries with the largest solar process heat collector area (www.ship-plants.info)
Source: Task 49
Regarding the volume of installed solar process heat collector area, Chile, China and the USA are leading the ranking (see the table above). Chile boasts the world's largest solar process heat installation – the 27.5 MWth plant at the Gaby copper mine. Regarding the number of projects, Austria and Germany are leading the way with 23 and 21 projects, respectively. German systems are by far the smallest of all key market installations.

The food industry is the most frequent industry sector for solar process heat according to the online list. The solar plants in the textile industry are mostly based in Asia, at leather producers or printing and dyeing workshops. Breweries using solar can be found all around the world, with projects in Austria, China, the Czech Republic, France, Germany, Greece, Saudi Arabia, Tunisia and the United States.
Most popular industry sectors for solar process heat applications. Total number of projects is 155.
Flat plate collectors are dominating SHIP installations: 65 % of the registered plants are equipped with this collector type, 21 % with vacuum tube collectors, 7 % with parabolic trough concentrators, 5 % with air collectors and 2 % with unglazed collectors. The statistics are based on May 2015 figures of 155 projects with a total collector area of 144,406 m².

The SHIP database is one of the major outcomes of the four-year research programme Task 49 / IV Solar Process Heat for Production and Advanced Applications. It is a joint task between the two IEA Implementing Agreements Solar Heating and Cooling and SolarPaces. 57 participants from 16 countries worked together on different subjects, of whom 33 % have an industrial background and 67 % are researchers. Additional results include a report on Overheating prevention and stagnation handling in solar process heat applications published in January 2015 and the Integration Guidelines posted on the Task 49 subpage in February 2015 (find both studies attached). The task will end in January 2016.
More information:
TAKS49.iea-shc.org