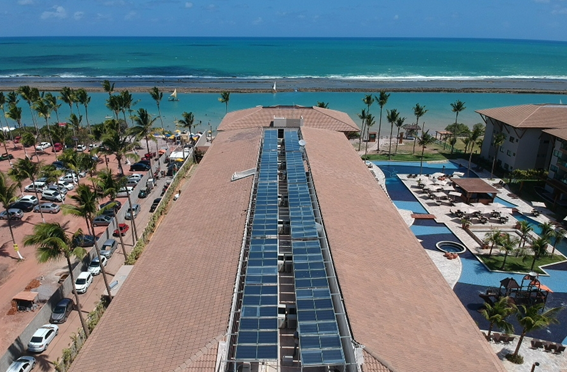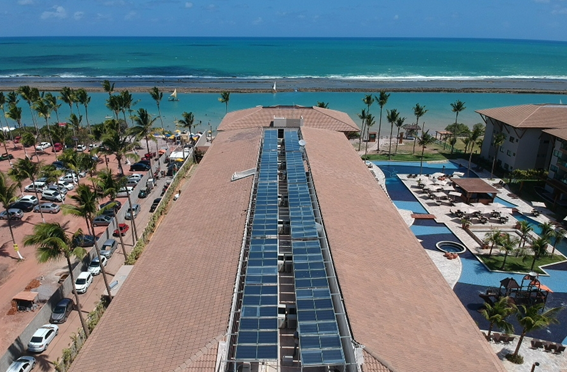 Hotel sector is important sales channel for solar industry in Brazil
ABRASOL, the Brazilian solar thermal industry association, has just published its annual market report for the year 2022. Collector sales totalled 1.25 GW (1.78 million m2) – slightly lower than the record year 2021. The 2 % decrease was caused by the economic problems last year and the political uncertainty with the federal and state elections. In 2021 the Brazilian solar thermal sector recorded the highest sales ever (+ 28 %) due to increased investment in construction and big rises in electricity prices due to shortages in power supply. Solar heating for hotel sector has been an important sales channel in both years. Photo: Solis
In the foreword to the market report, ABRASOL's President Luiz Antonio dos Santos Pinto, CEO of the company Solis, emphasised the fact that as in the previous years the residential segment remained the main market with 73 % but the commercial/service sector also played an important role with 19 % of the newly installed collector area in 2022. Solarthermalworld.org interviewed dos Santos Pinto about the role of solar thermal in the tourism sector in Brazil. The photo above shows a 192 m2 installation at the Residence & Resort La Fleur Polinésia in Porto de Galinhas, Brazil, which has been in operation since 2019.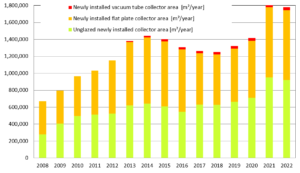 Market statistics for Brazil between 2008 and 2022. Last year, unglazed collectors for swimming pools accounted for 51 % of the newly installed collector area followed by 46 % glazed flat plate collectors and 2 % vacuum tube collectors. Source: ABRASOL
Investment pays for itself after two to four years
"The use of solar heating in hotel sector has been growing a lot throughout Brazil," said dos Santos Pinto, "one of the main reasons for this growth is the need to improve guest comfort and reduce costs, since solar water heaters are very advantageous." In many regions, they rarely have to use backups as there is enough solar radiation all year round for the solar collector fields. The worst regions according to dos Santos Pinto will need back-up heat sources for no more than four months a year. Also: "the investment pays for itself in two to four years". This benefit is highly valued by entrepreneurs but there are few government incentives, according to the ABRASOL President. This is why the association is struggling to get more public support.
ABRASOL's members are optimistic that the solar thermal market will get back onto the growth path this year. From the new government the association expects support programmes on the federal, state and municipal levels.

Hot Beach Park Resort in Olímpia, state of São Paulo, with 540 m2 of collectors on the two buildings together. They have been in operation since 2019. Of this area, 432 m2 operate with a non-pressurised storage volume of 45,000 litres. A pumped solar circuit with 108 m2 of collectors has pressurised storage of 10,000 litres. Photos: Solis
Solar heat benefits for hotels
Most of the hotels have enough space to install all the necessary solar collectors. Dos Santos Pinto said that "very tall buildings can compromise the good performance of the solar system, but most of the time the hotels have few floors, so they have enough roof area."
Dos Santos Pinto confirmed that most larger hotel installations from Solis use glazed flat plate collectors. They consist of fin absorbers with a black painted aluminium plate and copper piping. The reference cases provided have between 204 and 432 rooms, resulting in collector fields of between 288 m² and 540 m².
Before the hotels and resorts started using solar collectors, they mostly used electric, gas or even firewood heaters – which meant more costs with the rising energy prices, especially for the highly booked beach hotels, according to dos Santos Pinto. Flat plate collectors are usually used to provide hot water for showering, kitchen and laundry. Unglazed polymer collectors heat the pools.

Solar water heating installation at the Sesc Guarulhos Hotel in the state of Sao Paulo with 300 m2 of collectors and 21,500 litres of storage. Photos: Solis
Websites of organisations mentioned in this news article:
ABRASOL: http://www.abrasol.org.br
Solis: https://solissolar.com.br/