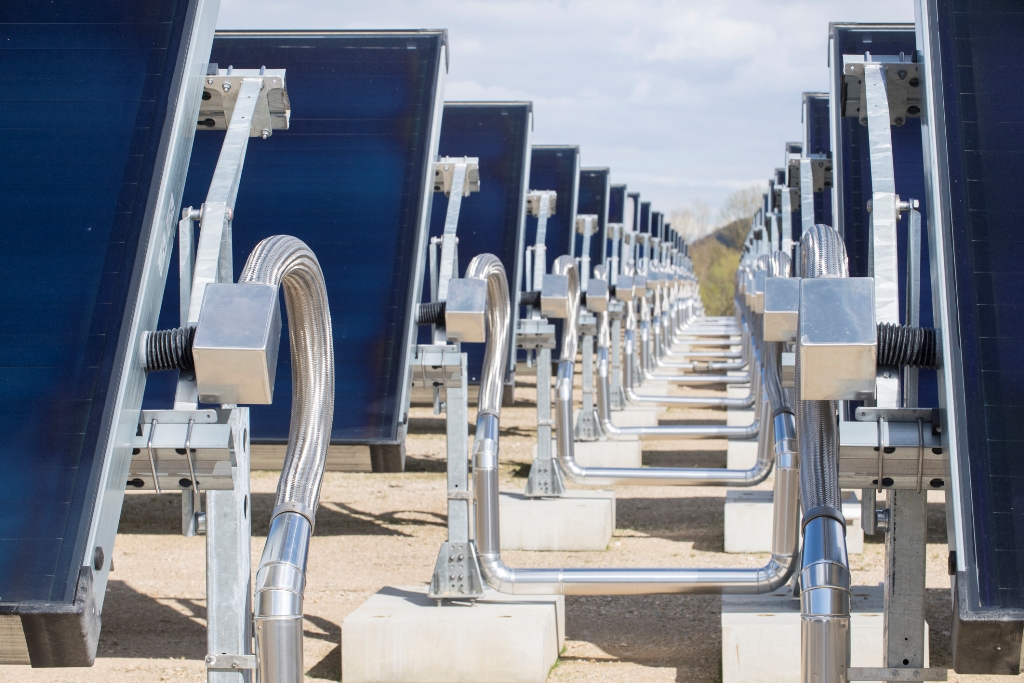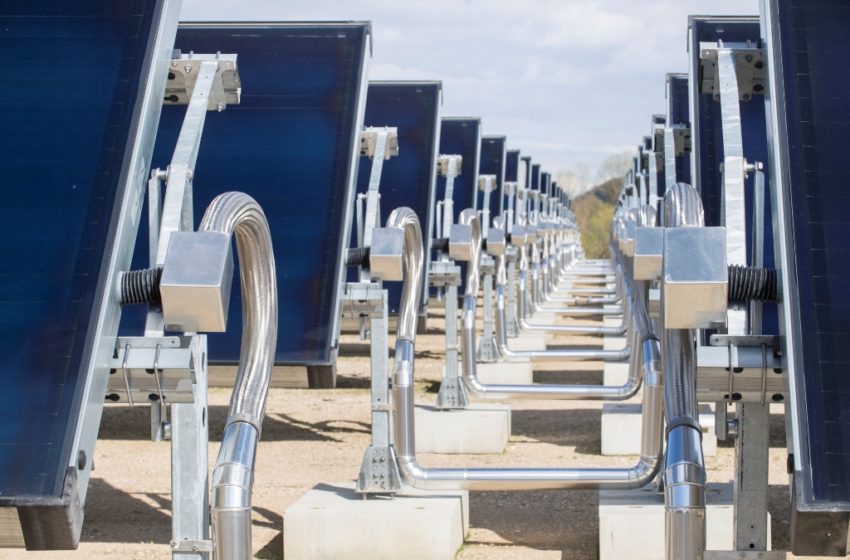 Highly efficient industrial solar heat showcase in southwest France
In mid-June, a start-up business inaugurated the largest industrial solar heat plant to date in France, a 4,213 m² (3.4 MWth) flat plate collector system, which supplies heat to the Condat paper mill in southwest of the country. Owned by the Lecta Group, the mill is one of the country's biggest, and its new demonstration system has several innovative features, such as single-axis tracked collectors to increase the yield and outlet temperature. Furthermore, the system is being operated by an ESCO, also known as an energy service company, which sells heat to the factory at set prices. Since the project was a collaboration between multiple expert companies, it has developed into a showcase for industrial solar heat in France.
Photo: NewHeat
The initiator and developer of the project was a young Bordeaux-based company named NewHeat. It not only financed the construction of the solar system but retains ownership of it and sells the heat it generates to the mill. "Since coming online on 8 January, the system has produced over 2400 MWh of thermal energy and successfully passed initial performance tests, which confirmed yield expectations based on the use of trackers," said Hugues Defréville, Managing Director of NewHeat.
It was quite an achievement for the company to set up a heat supply contract that specified the heat demand and temperatures required by the factory so as to produce and deliver solar heat efficiently. "We are delivering solar hot water for preheating the steam boilers so we can lower the fossil energy requirements of this process by nearly 40 %," said Defréville. In all, the solar thermal plant meets just about 1 % to 2 % of total heat demand at the factory.
Several engineering firms with expertise in designing and putting up larger solar fields supported the company in integrating the system into the factory's heat network, French-based Tecsol and Danish-based Ramboll among them.
| | | |
| --- | --- | --- |
| Solar field size | 4,213 | m² |
| Collector type | Savo 15 SG | |
| Storage tank volume | 500 | m³ |
| Total investment | 2.3 million | EUR |
| Specific costs | 546 | EUR/m² |
| Ademe co-funding | 1.4 million | EUR |
| Expected solar yield | 3,900 | MWh/a |
| Specific solar yield | 926 | kWh/m²a |
Key figures of NewHeat's industrial solar heat plant. French energy agency Ademe covered 61 % of the investment in the system.
Source: NewHeat
Once used to store paper sludge, the area next to the paper mill was covered up and sealed before installing the solar field. 
Photo: NewHeat
The system comes with another major new feature, namely flat plate collectors which use single-axis tracking. They were manufactured and installed by Finnish-based Savosolar. "We wanted to not only increase the specific yield per square metre of collector area but also improve overheating protection should there be temporarily lower heat demand from the factory, for example, during maintenance," explained Defréville. The system is expected to produce 3,900 MWh per year, which corresponds to a comparatively high specific yield of 926 kWh/m²a. "If the collectors, equipped with direct-flow aluminium absorbers, did not use tracking, they would produce around 15 % to 20 % less," he added.
Savosolar became the project's turnkey supplier after successfully competing in an open invitation to tender. As for installing the system, it drew on the expertise of a Martillac-based business specialising in trackers, Exosun, which is also a subsidiary of Arcelor Mittal, headquartered in Luxembourg. Following a transition period of three months, Savosolar handed management of the solar field over to the NewHeat ESCO in April.
Organisations mentioned in this article: