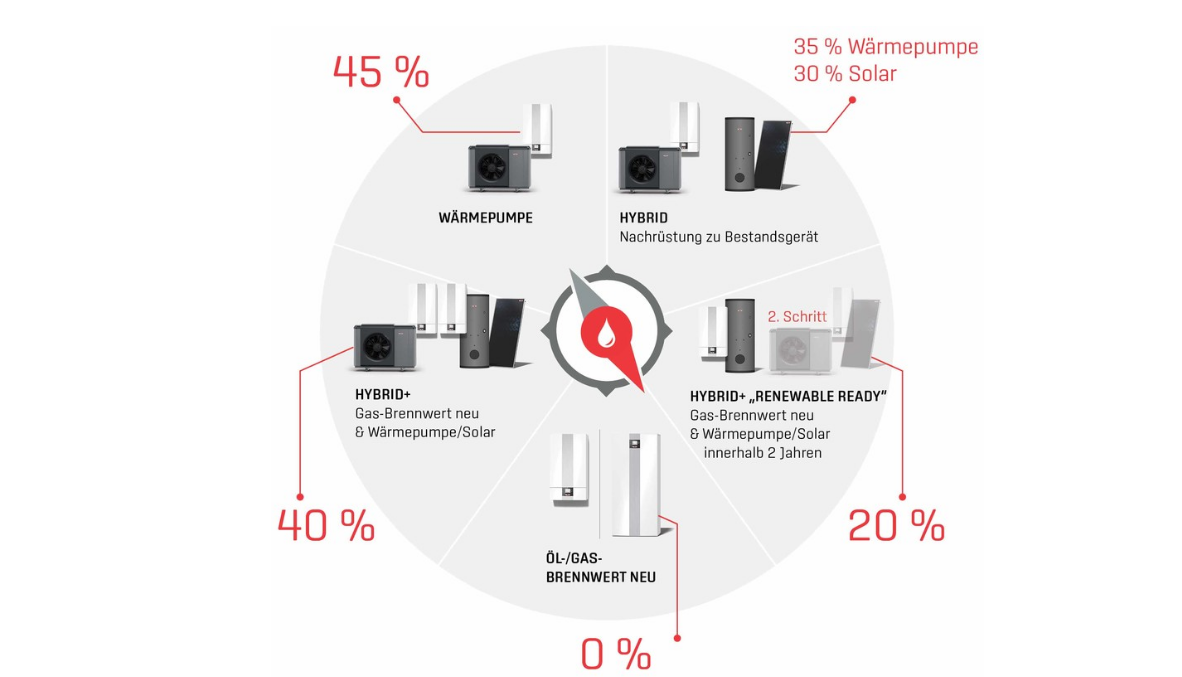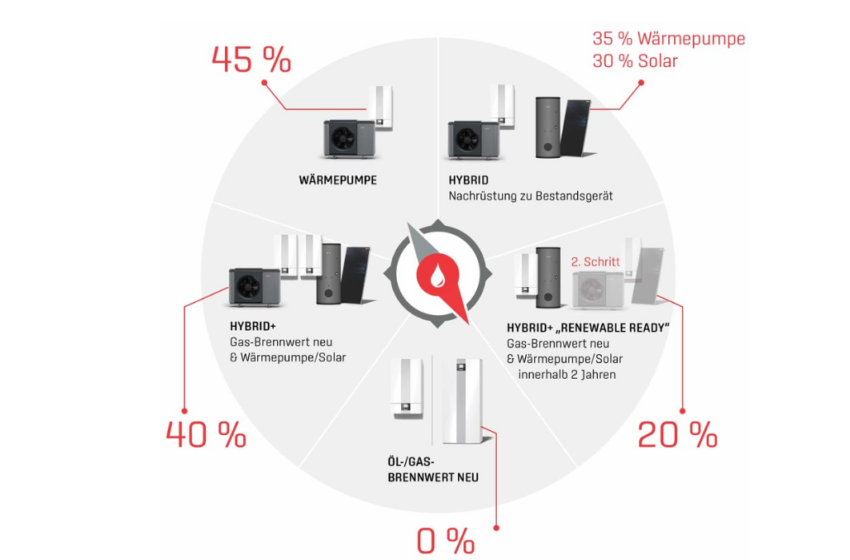 High scrappage bonus for oil boilers
Germany has seen growing demand for solar energy and other renewable heating solutions since the beginning of this year. On 1 January, the country's Market Rebate Programme, also known as MAP, started offering large incentives for getting rid of old heating systems. It made grants of 40 % of the costs available for replacing an outdated oil boiler with a gas condensing boiler supported by a solar space heating unit, or even up to 45 % if a heat pump or a pellet boiler is installed. Other measures eligible for funding based on the new incentive guidelines are the replacement of radiators, the removal of the oil boiler, and the installation of floor heating or a new gas connection. The above chart, created by German boiler manufacturer Wolf Heiztechnik, provides an overview of the grants that applicants can expect to receive when replacing an oil boiler. 
Source: Wolf Heiztechnik
The intensive discussion about the
climate protaction package
in the second half of 2019 has shown that the rate at which heating systems are being replaced in Germany is much too low. The country's statistical office, called Destatis, found that the number of oil boilers declined by only 2.3 % between 2014 and 2018. Nearly one-fourth of all German households still use these sorts of boilers for heating living space. This means that up to 8.7 million units continue to be in operation today, said German-based consultant Dietmar Lange.
Support from high-ranking politicians
The discussion started to gain traction last August, when Annegret Kramp-Karrenbauer, then chair of the Christian Democrats (CDU), wrote an article for one of Germany's big Sunday newspapers, saying that the climate protection package needs to include an 'Abwrackprämie' (a scrappage bonus) for oil boilers. In the following months, her words were picked up by many news outlets and became a highly efficient campaign slogan generating a great deal of publicity for the new MAP guidelines.
The staff at BAFA, the agency managing MAP, worked hard behind the scenes to incorporate an attractive grant scheme into the programme and succeeded. Economy Minister Peter Altmeier and BAFA President Torsten Safarik announced the new funding opportunity, titled Renewable Energy for Heating, in a press release published on 30 December.
Since then, suppliers of renewable heating systems have observed growing interest in their products from building owners. "The solar thermal manufacturers among our members are optimistic, as some of them have seen rising demand since the beginning of the year. We are confident that, finally, the situation in the industry will change for the better," confirmed Carsten Körnig, Managing Director of German industry federation BSW Solar. "We at BSW have invested a great deal of effort over the years to ensure that the government will provide improved funding opportunities for solar thermal, put a carbon price on fossil fuel burners and allow building owners to claim tax relief when they install new solar-assisted heating systems."
The hard facts also point in the direction of increasing demand, as the number of MAP applications requesting grants for the retrofit of old heating systems peaked this January. The total on 4 February was close to 10,000, nearly twice as many as were sent to the agency in the first half of 2019, when the monthly average was 5,900. BAFA's hotline is constantly busy and the agency has already apologised for the delays in getting information on its website and answering questions from interested consumers.
Solar-gas hybrid heating – requirements for funding
An article posted to German renewable news service Solarthemen on 23 January proves that there is still a great deal of clarification needed. The article explains how a gas-solar hybrid system must be designed to fulfil the new guidelines, which stipulate that the renewable heat provided by it has to be enough to meet at least 25 % of total demand in the building in which it is installed, the baseline being the boiler load. For example, a 20 kW boiler needs to be combined with a 5 kW solar thermal system. BAFA agreed to use the internationally accepted conversion factor of 0.7 kW per square metre of aperture collector area, but changed the factor to 0.635 kW per square metre gross collector area. Hence, the 20 kW boiler in the above example must be installed together with at least 7.87 m2 of collector area. The Solarthemen author notes that the regulation applies only to vacuum tube collector systems, which previously required a minimum size of 7 m2; a solar space heating system that includes flat plate collectors must have at least 9 m2 in any case. This means that companies installing hybrid systems can feel confident in having fulfilled the new requirements if the new boiler has at least 18 kW and is combined with vacuum tubes or 23 kW and is installed together with flat plate collectors, the article concludes.
Other challenges
The renewable heat experts who met in Berlin agreed that the new incentive structure goes into the right direction if the intention is to speed up the replacement of heating systems. But they also warn that two hurdles could hamper growth. First, 60 % of Germans are tenants. It may take quite a bit of convincing to get building owners to retrofit heating systems in rented buildings or flats, even though tenants would benefit from lower fuel costs thereafter.
Second, Germany's booming construction sector has caused a bottleneck in the plumbing industry, as most resources available at plumbing and installation companies are tied up at present. It is unclear how a market for boiler retrofits in existing building stock can develop in this sort of tense supply and demand environment.
More information: