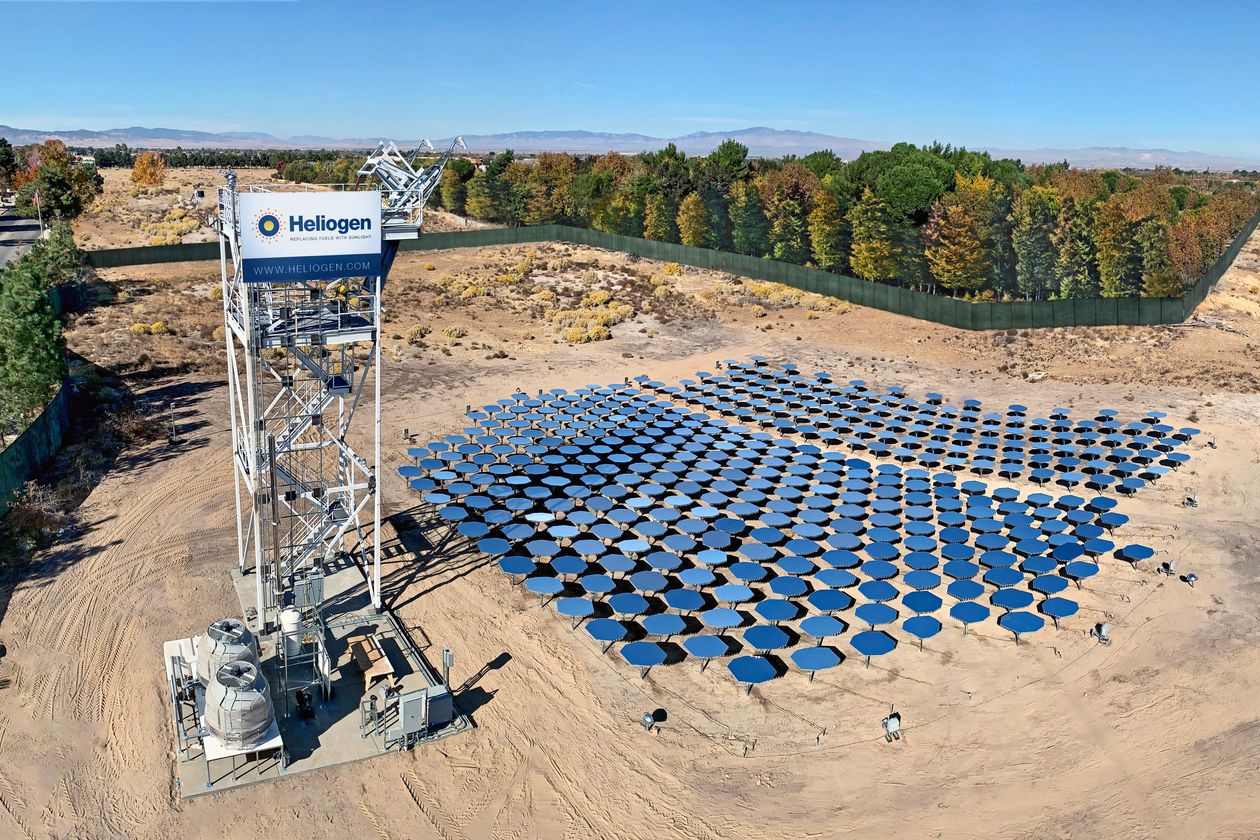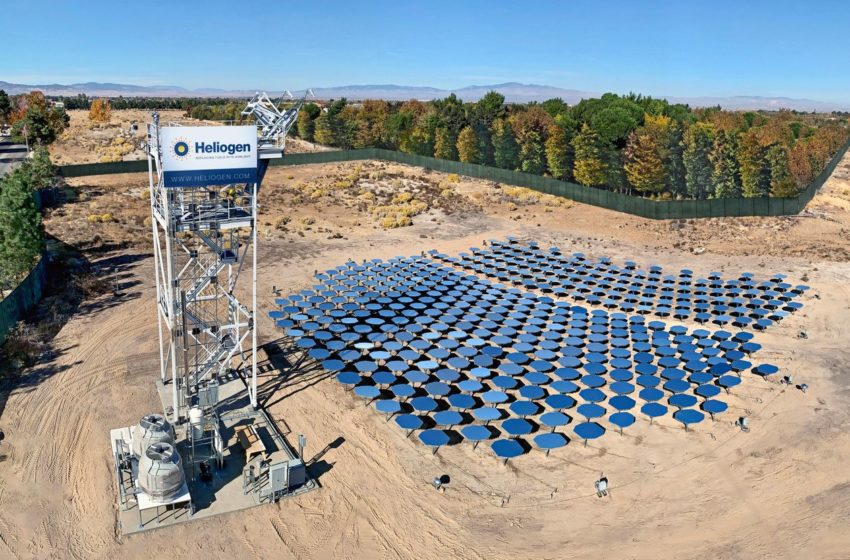 Heliogen successfully raises equity capital
Solar tower supplier Heliogen started 2022 with full bank accounts. At the end of December the US-based company first received a USD 39 million award from the Department of Energy for the deployment of Heliogen's so-called Al-Enabled Concentrated Solar Technology. And just a week later on the last day of the year Heliogen's shares started trading on the New York Stock Exchange. In the run-up to the Initial Public Offering (IPO) another USD 415 million landed on the accounts of the tech firm. Founded in 2013, Heliogen only reported first sales to customers in March 2021. The photo shows the demonstration plant in Lancaster California, put up in 2019, which uses small mirrors that focus the sunlight on the receiver in the tower. The high concentration can produce steam at more than 1,000 °C, which can potentially be used for solar process heat (HelioHeat) or for the production of electricity (HelioPower) or hydrogen (HelioFuel).
Photo: Heliogen
Heliogen's IPO was first announced in July 2021 and took place via the SPAC Athena Technology Acquisition Corp (ATHN). SPAC stands for special purpose acquisition company, which is a company that is already listed on the stock exchange and whose shareholders only decide on a specific business area when they decide to merge with another company. At Athena Technology Acquisition, whose investors include Bill Gates, the decision was made at the end of 2021 with a majority of over 91 % of the votes in favour of Heliogen.
The company announced the "business combination with ATHN" in a press release on 30 December and a day later the trading of the shares started under the new name Heliogen. The stock market symbol for the new company is HLGN and its ISIN is US42329E1055.
In addition to the ATHN capital of USD 250 million, a further USD 165 million generated by the sale of additional shares to selected investors before the IPO flooded into Heliogen´s accounts, according to newsletter Öko-Invest from Austria.



The price of the shares peaked on 31 December, the day after Athena Technology Acquisition Corp (ATHN) and Heliogen announced their merger. At the beginning of February the price of the shares has been down to 3.55 USD. Source: Google finance
SPACS more risky for investors
The US experienced a boom in SPACs IPOs in 2020 and 2021, while SPACs in Europe are much rarer, Öko-Invest reported in its July 2021 edition. While annual funding by SPACs in the US increased from USD 1.8 billion in 2012 to USD 13 billion in 2019, SPACs recorded more than USD 83 billion in IPOs in 2020.
"An IPO with a SPAC is faster than going public with a new company, but it is also more risky for investors because little is known about the startup's business strategy," warned Max Deml, Editor-in-Chief of Öko-Invest. He commented about Heliogen:
Heliogen only reported its first sales to customers in March 2021 but raised high expectations. However, the initial euphoria – the share price rose to USD 16.35 – quickly dissipated. At the end of January 2022, a month after the IPO, the price was only $3.42. But even the lower market value of around USD 627 million still seems very high for a company that posted an operating loss of USD 23.16 million on sales of USD 3.56 million in the first 9 months of 2021. Although the new investors now have a lot more cash available, the losses will add up to a total of over USD 400 million by 2024 according to the business plan.
Bill Gross promotes Heliogen's solar concentrated technology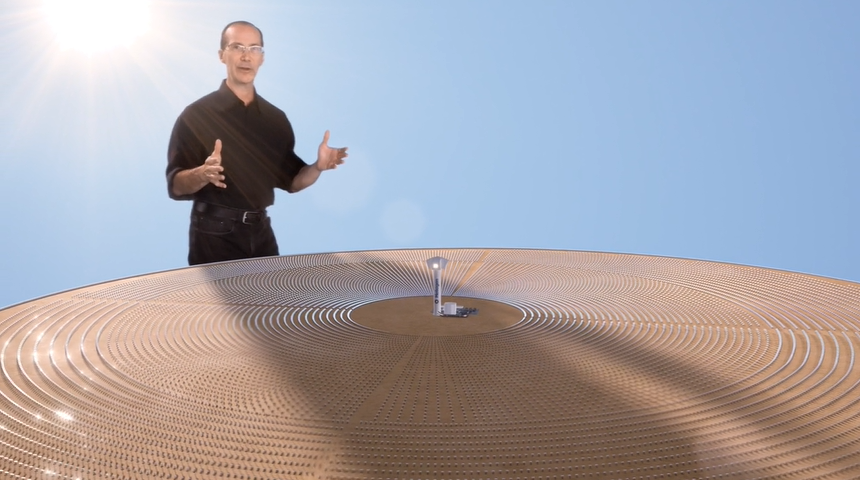 Heliogen's founder and CEO, Bill Gross, in an image video explaining its solar tower technology. Source: Heliogen
The past and future heavy losses are certainly outshone by the image of the company founder Bill Gross as a successful investment angel and entrepreneur. Gross has made a fortune backing internet startups through his Idealab incubator and has founded more than 150 companies over the last 30 years, according to Heliogen´s website.
Organisations mentioned in this news article:

https://oeko-invest.net/ (only in German)