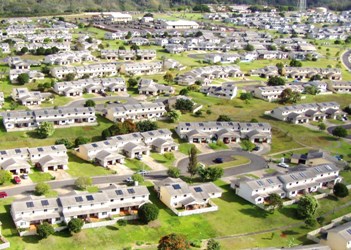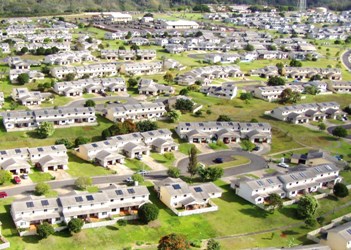 Hawaii's Solar Obligation: Frontrunner in the USA
Solar is everywhere in Hawaii: This is the Helemano Army Family Housing project of the U.S. army near the city of Wahiawa. It possesses more than 400 solar water heaters. Photo: Sunearth

Hawaii is the state with the biggest solar water heating market in the US. Because it wants to stay ahead, the Hawaii government introduced a solar mandate during the summer of 2008. The key statement of law 196-6.5: "No building permit shall be issued for the single-family dwelling that does not include a solar water heater system on or after January 1st, 2010".
Earlier this year, authorities published modifications to the law. They also include clear regulations on how to handle tax credits. State income tax credits for solar water heating systems that cover 35 % of installation costs (up to US$ 2,250 for single family houses) have been available in Hawaii since January 2006. Single-family residential property for which a building permit was issued prior to January 1st, 2010 will still profit from these tax credits. Afterwards, a solar water heating system will be mandatory and no longer be eligible for either tax credits or rebates by the Hawaiian public utility companies Heco, Helco and Meco. The public utilities started rebating solar water heaters as early as 1996. Currently, a rebate amounts to US$ 1,000 per system.
Multi-family residential and commercial properties are still fully eligible for tax credits, because installing a solar water heater here is still voluntary:
• Multi-family residential buildings: tax credit of 35% of the actual cost or US$ 350 per unit, whichever is less
• Commercial property: tax credit of 35% of the actual cost or US$ 250,000, whichever is less.
Country

USA

State

Hawaii

Name of the law

Hawaii Revised Statutes

;

chapter

196-6.5

Goal

To promote and regulate the installation of solar water heater systems required for new single-family residential buildings

Date when law passed

Published in 2008

Date when lax came into effect

On or after January 1, 2010

Target group

New single-family residential buildings

Special requirements

No building permit shall be issued for a new single-family residential building that does not include a solar water heating system

A variance application shall only be accepted if submitted by a licensed architect or mechanical engineer

The public benefits fee administrator shall be responsible for verification inspections after installation

  

Complete exemption shall be allowed in the following cases:

 

installation is impracticable due to poor solar resource

installation is cost-prohibitive based upon a life cycle cost-benefit analysis

a renewable energy technology system is substituted for use as the primary energy source for heating water

a demand water heater device approved by Underwriters Laboratories, Inc. , is installed; provided that at least one other gas appliance is installed in the building

 

→ A request for a variance shall be submitted to the energy resources coordinator on an application prescribed by the energy resources coordinator; it shall be deemed approved if not denied within thirty working days after receipt of the variance application

Last review of this tabloid

March 2009

Further information

http://www.capitol.hawaii.gov/session2009/Bills/HB1464_.pdf