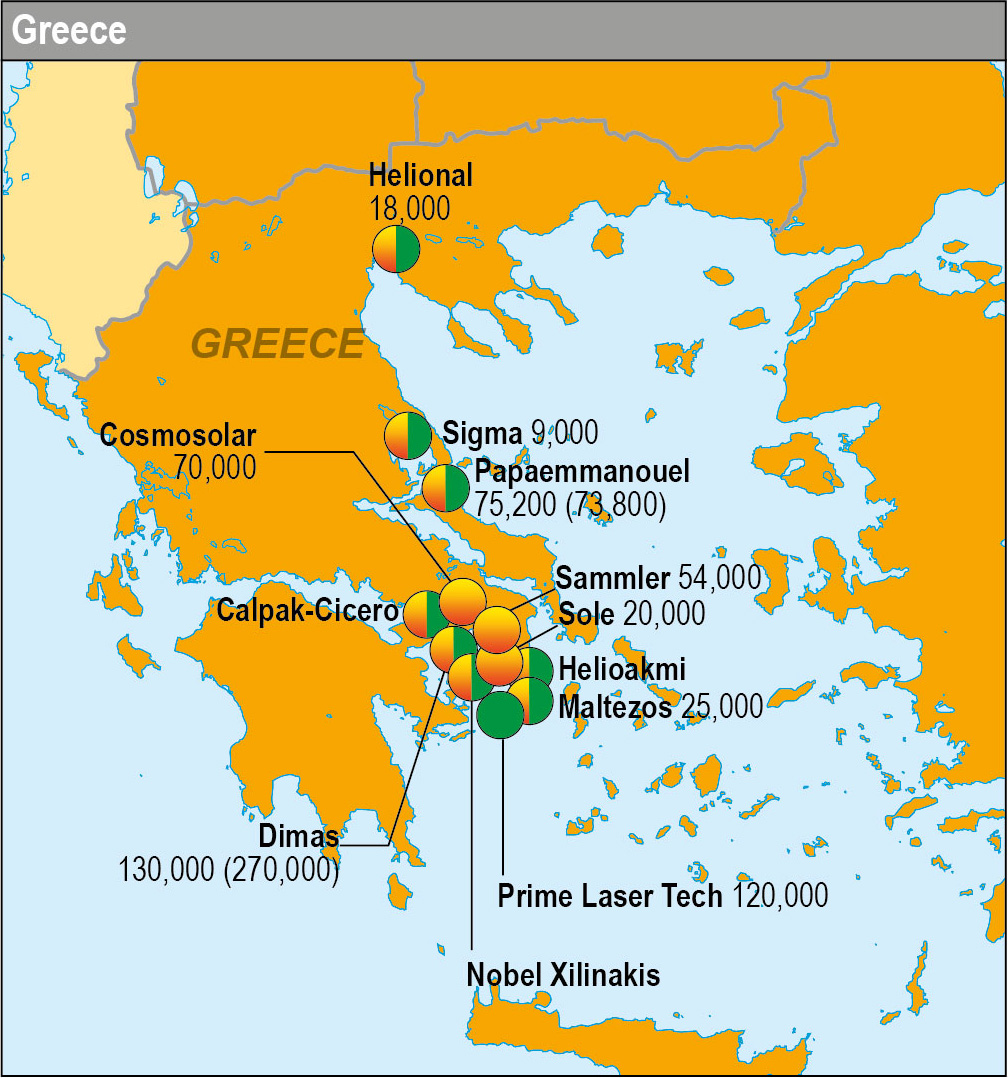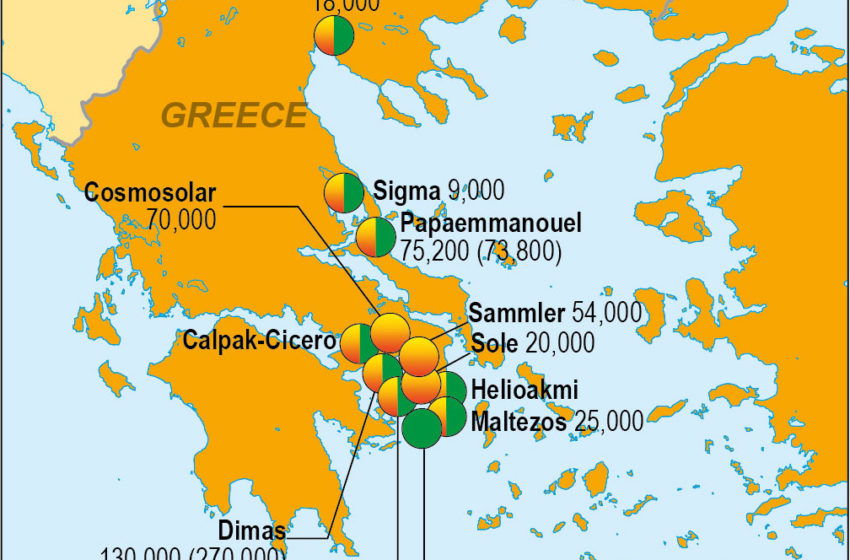 Greece: Nobel Moves Solar Water Heater Production to Bulgaria
Greek manufacturer Nobel Xilinakis moved its solar water heater production to the Elin Pelin industrial park in the Sofia region of Bulgaria. The relocation had already been completed at the end of 2013, but became public only through the current World Map of the Solar Thermal Industry, which was published in the October issue of international magazine Sun & Wind Energy. All other Greek manufacturers are still producing in Greece. The chart shows part of the European Map on flat plate collector manufacturers, displaying the Greek companies with their 2013 production output. Prime Laser Tech with the full green circle is an absorber manufacturer.
Source: solrico / Sun & Wind Energy
No press release on Nobel's website had announced the relocation of the production from the factory in Acharnes near Athens to Bulgaria. In fact, the latest news piece on Nobel's website dates back some years ago and says: "In 2011, the company intends to invest EUR 30 million to relocate to an ultra-modern site equipped with state-of-the-art production lines, which will set new standards in the manufacturing of renewable energy products." This was probably put online around the same time – in spring 2010 – that the Greek government admitted to not being able to repay overdue loans. In order to avoid a national bankruptcy, the country requested EU assistance on 23 April 2010 and, in return, accepted stringent fiscal consolidation and austerity measures.
Hence, the family-owned business decided not to invest in Greece for the time being. "The main reason for the move is related to our need for more factory space and improved flexibility because of the growing demand from markets all over the world. We required some social, political and economic stability, which Greece does not enjoy at the moment," Avra Sofia Oikonomou from the export department explains.
New factory with 120 mostly local staff
Nobel International EAD (a single-member stock company) is an independent company, headquartered in Bulgaria, and owned by a group of investors. The company operates a large production hall – a former textile factory building – with 20,000 m2 floor space in Elin Pelin, which is near the airport and only a 30 minute-drive away from the centre of Sofia, Bulgaria's capital. "We have a lot of experienced workers in our region, which used to be a centre of the metal industry 20 to 30 years ago," Vesselin Passev, Bulgarian member of the Advisory Board of Nobel International, explains. "Today, we employ 120 staff in the new factory in Elin Pelin, mostly locals. Only a few specialists came from Greece," he adds. The production machinery was shipped from Greece. Collector assembly started at the beginning of 2013 and since the end of 2013, all other products, such as absorbers, tanks and electric water heaters, are also being produced in Bulgaria. The export department, the warehouse and an assembly line are still in operation at the former site in Greece. "We will certainly deliver to our around 1,000 Greek costumers without delay," Oikonomou confirms.
Nobel was founded in 1975 by Manolis Xilinakis as a business for the manufacture of water heating systems. The company is one of the largest Greek manufacturers and regularly participated in the above-mentioned survey, which is carried out by German agency solrico and published once a year in Sun & Wind Energy. According to annual World Map's of Solar Thermal Industry, Nobel's collector production volume increased from 74,000 m2 in 2010 to 115,000 m2 in 2013. The company also manufactures around 5,000 m2 of OEM absorber area for other collector assemblers each year. Around half of its annual production output is sold in Greece. The second half is shipped to customers on all five continents.
More information:
http://www.nobel.gr
http://www.solrico.com
http://www.sunwindenergy.com