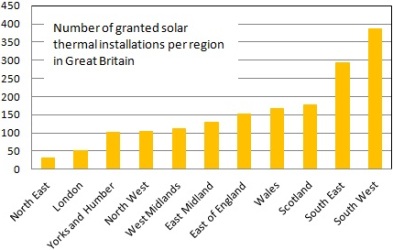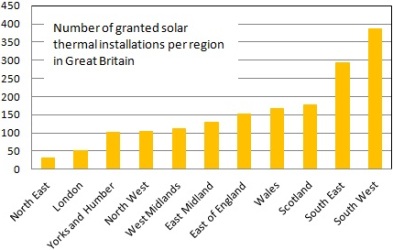 Great Britain: Second Phase of the Interim Payment for Residential Clients
The start of the Renewable Heat Incentive (RHI) for British home owners has been officially postponed to summer 2013. To fill the gap, the UK's Department for Energy and Climate Change (DECC) started the second phase of its interim one-off payment – called the Renewable Heat Premium Payment Scheme (RHPP) – on 1st May 2012, and published the results of Phase One which closed in March 2012. The chart above shows the number of subsidised solar water heaters per region. Altogether, 1,706 solar thermal systems were granted in the first phase of the RHPP.
Source: DECC
The results of Phase One show that a total of 5,369 installations have benefitted from the RHPP scheme. These have been worth a total cost of Pound Sterling (GBP) 5,479,750. Further details can be viewed here.
Solar thermal has proved to be the second most successful technology in this scheme:
| | |
| --- | --- |
| Technology | Number of granted installations |
| Solar Thermal | 1,706 |
| Air Source Heat Pump | 1,887 |
| Ground or Water Source Heat Pump | 1,033 |
| Biomass Boiler | 743 |
Source: DECC
As with Phase 1, in RHPP Phase Two solar thermal systems are eligible for a GBP 300 rebate, while the voucher for air-source heat pumps is set at GBP 850, ground-source heat pumps at GBP 1,250 and biomass boilers at GBP 950.
Community projects are now also eligible under the RHPP, with the launch of a new GBP 8 million Communities Competition. Further information on this competition is currently unavailable, although interested parties can fill in a form at this web address to register to receive details once these have been released.
Phase 2 will also include a GBP 5 million increase to a total of GBP 10 million on the existing Social Landlords Competition. As with Phase 1, each project will be eligible for a maximum of the equivalent in GBP Sterling of 200,000. This scheme particularly aims to encourage the installation of renewable heat technologies such as solar thermal in off-gas grid areas.
Homes that are currently or until recently were heated by mains gas are only eligible for RHPP vouchers for solar thermal installations. Homes that are heated by oil, liquid gas, solid fuel or electricity are able to apply for solar thermal, but could also apply for air- and ground-source heat pumps and biomass boilers.