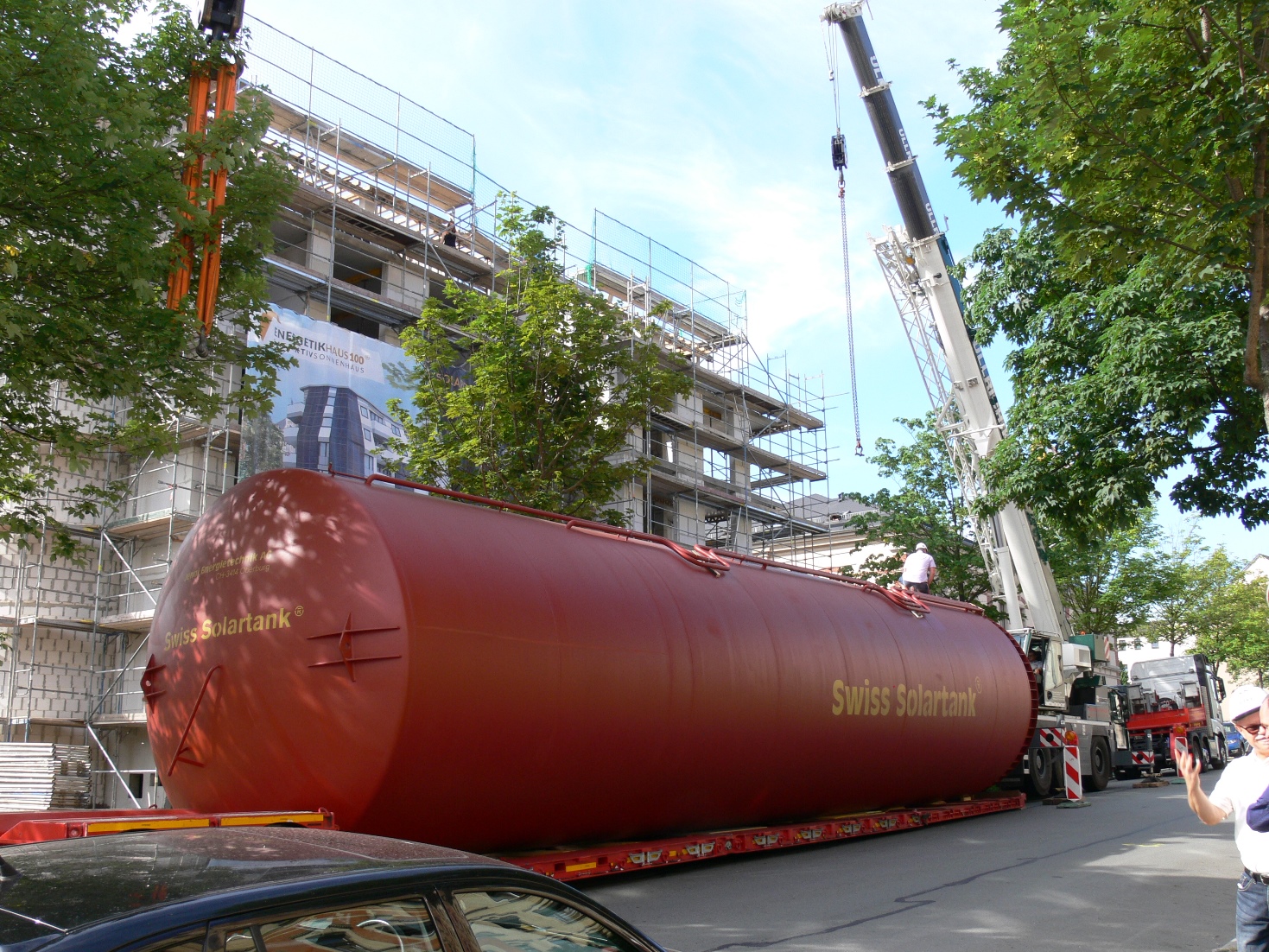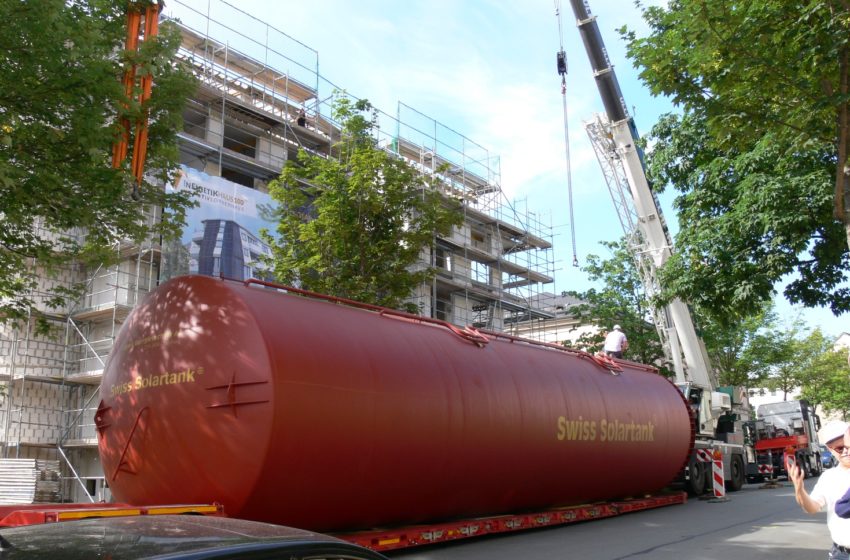 Germany's biggest solar-heated house nears completion
This summer, the first families will be able to move into Solardomizil III, Germany's soon-to-be-largest showcase of residential solar thermal design. The multi-family property is being put up by FASA, a solar thermal-only construction firm founded in 1990 after the fall of the Berlin Wall. The core component of the building's heating system is a 72 m3 steel tank, incorporated into the base build in October 2020 (see photo above). With a diameter of 2.3 m and a height of 17.8 m, it extends to all floors of the house.
Photo: Volkmer Zichner
"Our main focus over the past 20 years has been solar architecture and solar thermal," said FASA Chief Executive Ullrich Hintzen. His overarching aim is to use as much solar thermal energy in the construction sector as economically feasible.
What this could look like in practice can be seen on the premises of Chemnitz's former castle brewery, where FASA is building Germany's probably unique solar thermal settlement. Since it acquired the land in 2005, the company has put up 14 single-family homes, each equipped with solar collectors to meet at least half, if not all, of residents' heat demand. Once the homes were completed, FASA started working on Solardomizil, a group of three primarily solar-heated multi-family buildings with 53 flats to own. From the outset, FASA made clear that it would deploy solar thermal collectors and a big storage tank, not a PV-heat pump combination, to heat the buildings.
"Solar thermal can generate up to three times as much energy as a PV system, so there was little doubt about what technology would go on the roof and facade," said Hintzen. And, he said, the solar thermal storage units that you can buy on the market today are cheap and easy to install and will only receive more improvements over time.
Solardomizil I and II, where solar collectors have been integrated into the façade and a 200 m3 tank stores heat inside the building
Source: FASA AG
100 EUR/m2 for solar heating
During the first two phases of construction in 2017 and 2019, FASA completed 29 Solardomizil flats with about 3,000 m2 of floor area. Half their heat demand is met by a 317 m2 solar thermal system,  equipped with 200 m3 of long-term storage made by Swiss-based Jenni Energietechnik. The use of solar heat increased construction costs by round about 100 EUR/m2 of floor area compared to the installation of conventional heating. But the solar system will also provide low, stable energy prices for a long time to come.
In November 2019, FASA then started construction on Solardomizil III, a multi-family building with 24 flats to own. On average, 50 % of its heating needs are to be met by solar energy. The 340m2 of solar collector system covering the south-facing facade and part of the balconies was delivered by FASA partner Retec Solar. The energy it collects is transferred to a 72 m3 tank – another Jenni Energietechnik product but smaller than the one used in first two phases, as Solardomizil III's south-facing collectors harvest more energy throughout the day.
The solar heat will later be distributed evenly throughout the house, to both the floor heating system and the fresh water tank. On winter days with less sunshine, an 80-kilowatt condensing boiler will serve as the backup system.
FASA puts the building's annual heat demand at 109,000 kWh. A 50 % solar contribution would therefore reduce carbon emissions by about 13 tonnes a year.
Like last time, the company will shoulder the additional financial burden brought on by its flagship project. FASA spent an additional EUR 300,000 on the house compared to a conventional multi-family building, which makes it 10 % more expensive than the average gas-fired newbuild. "We did not pass these costs along to customers," said Hintzen. To him, the entire area including Solardomizil III, is a reference that the company can put on its website, in the hopes that the showcases will lead to some intriguing projects down the road.
Solar collector facade of Solardomizil III under construction Photo: FASA AG
Flats sell like hot cakes
Each of the 24 Solardomizil III flats were sold even before the building shell was finished. At 2,700 to 3,100 EUR/m2, the soon-to-be residents paid no more than the average price for a flat in Chemnitz. Each flat, from the 80 m2 to the 120 m2 one, went that quickly, Hintzen said, because of the building's location near the centre of Chemnitz and because of its eco-friendly solar thermal system, which provides stable, low-cost heat long term. Flats selling like hot cakes, he added, is not something you see happening very often in Chemnitz.
Ullrich Hintzen: "We're now no longer offering anything besides solar heat, and our turnover has grown 10 % to 20 % each year." 
Source: Volkmer Zichner
Thanks to an increase in the demand for solar-heated multi-family property, Hintzen and his team have already begun working on other large solar thermal projects. "We are currently designing a solar-heated house with a floor area of 2,000 m2, to fill in the gap between two existing buildings in a late-19th-century neighbourhood." That house will then be called Solardomizil IV. "And we have investors who would like us to replicate our biggest project to date in other locations around the world."
Organisations mentioned in this article: