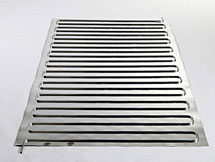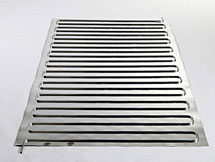 Germany/Poland: Hydro Aluminium Pipes as Standard Product soon
Norwegian aluminium producer Norsk Hydro ASA announced its first clients to order aluminium tubes for the production of absorbers in a press release at the end of January. In the press release, the corporation named German collector manufacturer Solarbayer GmbH and Polish collector manufacturer Hewalex as the first to do so.
Photo: Hydro
The main product of Hewalex is the solar collector KS2000, which is equipped with an ultrasonic-welded copper absorber with copper tubes. The company has also introduced a new product line, with a laser-welded absorber consisting of an aluminium plate and copper tubes. "Soon, we will also offer our clients a collector equipped with a laser-welded absorber consisting of an aluminium plate and aluminium tubes," Leszek Skiba, the owner of Hewalex, says. This type of solution, in which aluminium is used to manufacture absorbers for solar collectors, has already been tested at the SPF research institute in Switzerland – with positive results.
"We are still working on some issues, such as connectors and outlets, but hope to offer the new collector type within a few months time," explains Leszek. The engineer has also tested ultrasonic welding of aluminium plates and copper tubes, but came to the conclusion that, "the connection is not strong enough, hence it is not the best solution." With respect to the aluminium pipe collectors, Leszek recommends that installers use stainless steel or aluminium piping within the solar thermal circuit.
German collector manufacturer Solarbayer takes a different approach when it comes to processing aluminium pipes. "Our ultrasonic-welded absorbers consisting of aluminium plate and aluminium pipe have a much better heat transfer than the laser-welded variant," Martin Kraus, Managing Director of Solarbayer, argues. The extra efficiency is partly due to the aluminium pipe's special inside surface, which has a wall thickness of 1.2 mm. "The inside surface is roughened and thus we can achieve greater turbulences," explains Kraus. He is still waiting for some test results from the German institute TÜV Rheinland. Kraus is confident that he will be able to offer the aluminium/aluminium collector series at the beginning of the season in May this year.

"If the installer uses the stainless steel piping offered by the system integrator and applies proper glycol, I do not see any problems with using aluminium piping," says Kraus. When it comes to ultrasonic welding of aluminium plates and copper pipes, the Managing Director speaks more critical: "This does not work well".
Hydro is manufacturing its HyLife Solar aluminium alloy tubes at the company's precision tubing plant in Denmark."We offer aluminium alloys that can withstand corrosion over a system's life cycle," Salvador Biosca, who is responsible for Hydro's aluminium tubing activities, is quoted in the press release. In December, Hydro had received the results from some tough high-temperature corrosion tests performed by the Swiss Institute SPF. According to the press release, the tests, which simulated 20 years of use, confirmed that the HyLife tubes are fit for usage in solar thermal systems.
More information:
http://www.hewalex.com.pl
http://www.solarbayer.de
http://www.hydro.com/en/Subsites/Precision-Tubing/