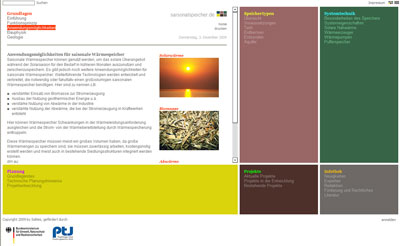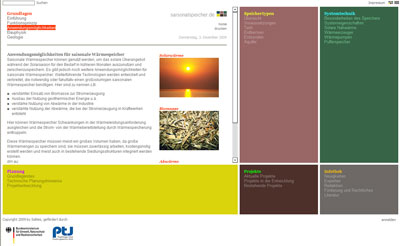 Germany: Web Portal about Seasonal Heat Storage
The six main features in different colours: This is the brand mark of a new website called saisonalspeicher.de (seasonal heat storage) launched in December by Solites, the German Research Institute for Solar and Sustainable Thermal Energy Systems within the company network of the Steinbeis Foundation.
The website offers all sorts of information about seasonal heat storage and is therefore a good address for anyone interested in this kind of technology. The web portal in German language is funded by the German Federal Ministry for the Environment, Nature Conservation and Nuclear Safety (BMU).
Preceding the establishment of the portal was a two-year theoretical ground work in cooperation with Stuttgart's Media University. According to one of the University's members, Prof. Dr. Michael Weißhaupt, " the distinct feature of this website is the approach that is taken to process experiences from the last two decades of knowledge management and test whether these experiences from business oriented companies can be adopted by NGOs".
Between 1995 and 2008, the German government subsidised the implementation of eleven pilot solar-thermal systems with seasonal heat storage, which were monitored as part of the Solar Thermal 2000 and Solar Thermal 2000plus programmes.
The website is divided into six main areas, each painted in a different colour: basics, storage types, systems engineering, designing, projects and info zone. Its novel navigation concept helps users to easily access the topics they are looking for. "In my opinion, not only like the direct and topic-based links behind the six navigation fields, but also the direct, quick and easy navigation between the single areas was done exceedingly well. It is a concept that also withstands critical examination," states Huberta Kritzenberger, also Professor at the Media University Stuttgart:
The portal will be accompanied by a study to develop and improve the website and provide useful information to municipal utilities, energy providers, construction companies, communities and ordinary people interested in the heat storage sector. Even though its whole content is in German, it can be translated into English using an internet translator.
More information:
http://www.solites.de
http://www.saisonalspeicher.de
http://www.hdm-stuttgart.de
This text was written by communication specialist Hanna Schober based in South Africa.
Schober@solrico.com