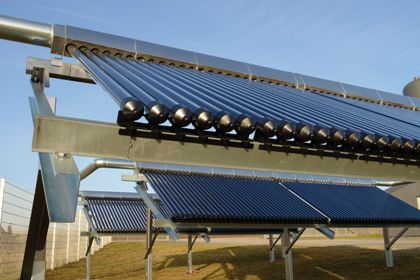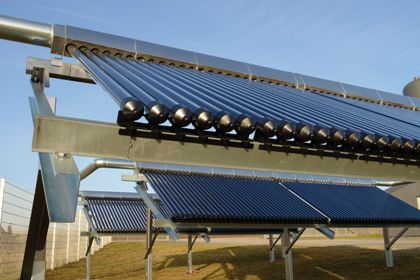 Germany: Viessmann Offers Turnkey Solutions for Bioenergy Villages
The German Viessmann Group, one of the leading manufacturers of heating and cooling technology, offers bioenergy village cooperatives their own turnkey systems for renewable district heating. These communities are required to cover 100 % of their electricity demand and at least 50 % of their heating demand by renewable sources. On average, bioenergy villages have between 1,200 and 1,500 inhabitants, who establish a cooperative owning and operating the renewable district heating network, as well as the heat and power generators. According to a study by the German Klaus Novy Institute, the trend towards sustainable energy supply independent of fossil fuels has led to around 800 of these co-ops being set up in Germany over the past few years. All in all, they have invested over EUR 1.5 billion, and more than 100 of them chose to install renewable district heating systems. The photo shows the special vacuum tube collectors suited for large fields. These collectors are of simple design and have a wide DN50 steel header pipe incorporated into the manifolds.
Photo: Viessmann
Viessmann se
t up a department for bioenergy villages four years ago. One of its first projects was the bioenergy village of Wettesingen, in which mainly biogas plants cover the heat base load and wood-chip biomass boilers or pellets the peaks. "Biogas is just one pillar of sustainable energy supply, and less focused on in Germany today because of the changes in the electricity feed-in tariffs for combined heat and power plants," Georg Stegemann, Project Engineer and Head of the Project Development Department, explains. Hence, another current project consists of a 3,300 m² solar collector field, a 9.5 km long district heating network and a wood-chip biomass boiler to supply energy to more than 150 households in the community of Mengsberg, which is part of Neustadt, Germany.
Three-year project developing phase
"We have noticed that German rural areas show increasing interest in turnkey renewable solutions," Stegemann says. "In Mengsberg, we have already passed two important hurdles." First, more than 150 households have agreed to be connected to the district heating network. Second, a cooperative was founded in November 2014.
All connected households will be members of the energy cooperative. Because of its private funding base, the cooperative does not have to invite tenders when investing several million euros in energy systems. "The next step will be to sign a letter of intent with the board of the cooperative, so that we can start discussing the details of the renewable district heating network and its heat generation units," Stegemann says. At this early stage, Viessmann usually states a fixed price for the turnkey, ready-to-use renewable district heating system, including the central heating unit. "If we can keep the price after planning and approval, we are usually chosen as the general contractor," Stegemann says.
Solar heat prices at full costs: 40 to 45 EUR/MWh
Planning and approval typically take nine months, which means that construction could start in Mengsberg in early 2016 – a bit over three years after Stegemann first met with Neustadt's mayor in November 2012. Total project costs are estimated at EUR 6.2 million. Stegemann lists the many advantages of the renewable district heating network: high reliability, predictable heating costs, no maintenance costs for heating systems in the individual houses, and no modernisation costs because of later renewable additions being integrated into the central heating plant only.
| | |
| --- | --- |
| Number of solar thermal collectors | 1,280 |
| Gross collector area | approx. 3,350 m² |
| Aperture area | approx. 2,150 m² |
| Total solar yield | approx. 1,150 MWh/a |
| Specific solar yield per m² of gross collector area | ca 350 kWh |
| Specific solar yield per m² of aperture area | ca 550 kWh |
| Solar share in total heating demand | around 18 % |
| Net solar heat prices at 2 % loan interest rate over 20-year lifetime | 48 EUR/MWh |
Key figures of Mengsberg solar thermal plant, which covers the entire domestic water demand during summer.
Source: Viessmann
"With the currently low interest rates and the great cost-saving potential of large-scale projects, we expect solar heat prices at full costs already at net 40 to 45 EUR/MWh," Stegemann says. Moreover, the project developer points out that the costs for wood chips are linked to the development of the overall energy prices, whereas – apart from annual maintenance costs – solar thermal systems deliver energy free of charge. This is exactly why Mengsberg's energy cooperative decided to install a solar thermal installation as part of the heating supply at an early stage.
More information: