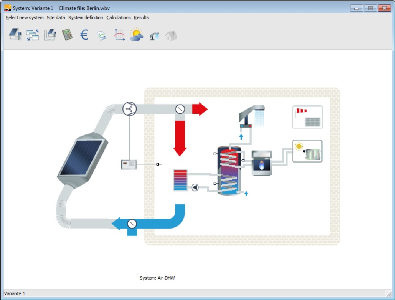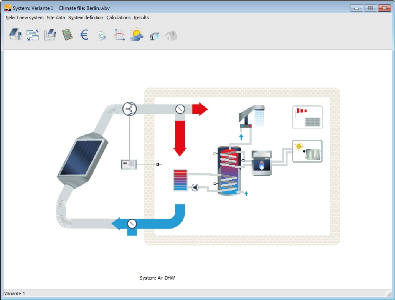 T*SOL Pro 5.0
Germany: T*Sol simulates Air Collector Systems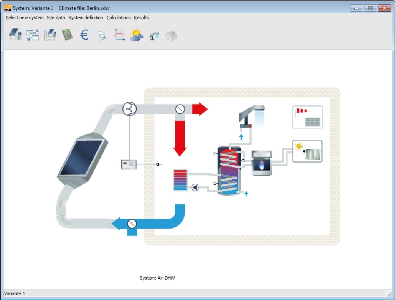 Air collector systems of Grammer can now be simulated and planned with the new version 5.0 of T*SOL Pro, the dynamic simulation programme for the design and planning of solar thermal systems, developed by German company Valentin Software. The programme is the result of a close collaboration with German air collector manufacturer Grammer Solar.
Figure: Valentin
Valentin has developed the additional tool of the established simulation programme to respond to the dynamic market of air heating systems. According to an international survey by German agency solrico among solar air collector manufacturers worldwide, "the sector is filled with optimism and the market is characterised by high growth rates and numerous new entrants". Solrico identified 30 manufacturers of air collectors across 14 countries. 18 businesses took part in the survey and were listed on a world map, which you will find attached to this news piece.
The centre of the industry is Canada, across which air collectors make up a significant share of the solar thermal market (see http://www.solarthermalworld.org/node/1507). However, you will find well established air collector manufacturers with a long tradition in Germany and India, too. The newcomers of the year 2010 on the world map are located in Slovenia, Germany and Canada.
For the first time in Europe, air collector systems have been incorporated into a simulation programme. T*SOL Pro 5.0 includes the necessary building and ventilation parameters for planning and yield prognosis. T*SOL is available in a multilingual version, which offers five languages: English, French, German, Italian and Spanish. It also includes the latest user manual and programme help in all five languages. Valentin Software looks back at over 20 years of designing simulation programmes for solar thermal and photovoltaic systems.
In Canada there are already for many years software solutions available: the SWIFT software programme and the RETScreen Solar Air Heating Project both developed by Natural Resource Canada.
More information:
http://www.valentin.de/en
http://www.grammer.com/no_cache/english/home/