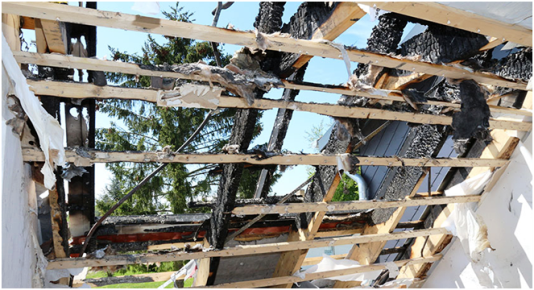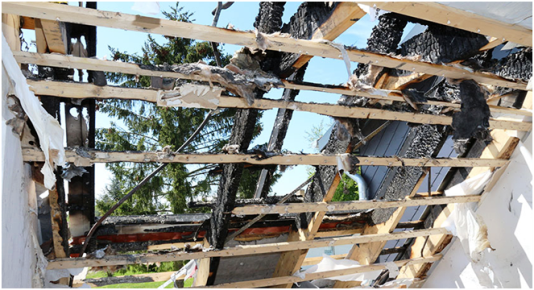 Germany: Troubling Times for Wooden In-Roof Collectors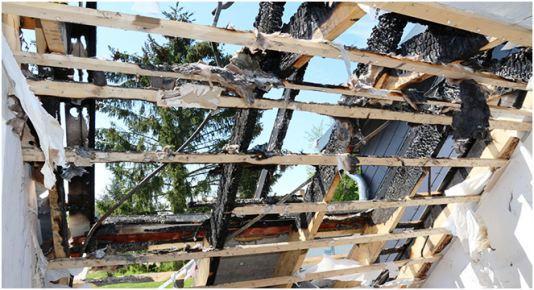 Wooden-frame solar collectors installed by the German cooperative BUSO Bund Solardach may have been the cause of at least 11 fires in 2015 and 2016, listed by solarsicherheit.com. It looks as if fire broke out during collector stagnation. BUSO, a cooperative of about 100 solar installers, was one of the pioneers of solar roof installations in Germany. It used collectors produced by Buschbeck, a company which went bankrupt last year.
Photo: ifs-ev.org
It is not entirely clear how many of these fires can be attributed to wooden-frame solar collectors made by Buschbeck and possibly other manufacturers. Insurance companies had already raised the issue in schadenprisma in 2014. An article in this special-interest magazine gave a detailed account of three incidents where the fire started with the solar collector inside the roof, but did not name the manufacturer of the system. Schadenprisma is published by the IFS, an organisation which was established by German insurance companies.
Solarsicherheit.com, a website dedicated to the issue, says that in 2015 and 2016, there were 11 fires in which solar systems installed by BUSO were suspected of having played a role. BUSO has not been installing any collectors for several years, but the cooperative's former website shows an online shop offering replacement parts for BUSO solar installations. This shop is run by Enrico Müller, who used to work at the cooperative and is also the owner of solarsicherheit.com.
Members of BUSO primarily installed solar collectors by Buschbeck, but solarsicherheit.com does not mention the company by name. The Buschbeck collectors were usually installed as in-roof systems in conjunction with large collector fields. Often, these collectors covered the entire roof.
Jörg Buschbeck, formerly CEO of Buschbeck, has meanwhile founded a new company called eco-modul, which produces and sells heating systems. He could not be reached for comment.
Regarding the number of fires, Müller writes on solarsicherheit.com: "Although these figures relate to about 15,600 BUSO systems and the exact causal relationships have not been proved beyond doubt, the steady rise in mysterious fires is troubling."
The second key installer of Buschbeck collectors was Soli fer, which had been founded by Timo Leukefeld and went bankrupt in 2010. Leukefeld, who had been involved in the installation of about 4,000 systems before Soli fer went out of business, said that he had received many enquiries from worried customers, but that there had been no reports of fires in connection with the company's systems.
Lower wood ignition point
Insurance consultants suspect that the fires started in the wooden collector frame. Their findings point to a lower ignition point, down to 120°C, if wood is exposed to heat frequently and over long periods of time. IFS argues that this has been a problem well known in the building industry. For example, fire safety regulations require that wooden parts of flue gas systems installed in buildings be not exposed to more than 85°C for long periods.
A temperature of 120°C can easily be reached during collector stagnation. BUSO solar collectors were often installed as complete solar roof-in systems and the correspondingly large collector area led to increased stagnation. In addition, consultants say that the absorber sheet in the collectors under investigation came in direct contact with the wooden frame. Some collectors had only a few millimetres of space between the absorber pipes inside the collector and the frame.
Avoid stagnation to be safe
The IFS explanation did not sound very convincing to Müller. On solarsicherheit.com, he said that the fires probably did not start within the collectors, but behind them. They might have been the result of overheating or non-insulated pipes combined with easily flammable materials such as bitumen.
Müller says that there are two factors in favour of his explanation: If the problem had been long-term exposure of the wooden frame to thermal stresses, it would be odd that none of the plants installed earlier, between 1998 and 2003, has been affected. And in many cases, the fire started below the actual solar roof – only the backside of the collector was charred.
Additionally, it says on the website that the wooden frame was tested and certified by acknowledged testing bodies. The collectors were built based on state-of-the-art technology and in compliance with the quality assurance guidelines during that period. However, Müller concedes that knowledge about these issues may have evolved in the meantime.
To be on the safe side, he recommends avoiding periods of stagnation. One option would be to cover the collectors with a shading net from March to October. To minimise the risk of stagnation, he recommends a summer cooling system, which is available in his shop.
In addition to Buschbeck, there was Roto Sunroof which sold in-roof collectors with wooden frames. In a recent letter to Roto customers, the company said that no Roto collectors had been affected. Roto explained this by a differing and safer design: more air circulation behind the collectors, more distance between hot metal components and the wooden frame, and the so called Steam Back technology to avoid overheating by driving out the heat transfer fluid from the collector above 140°C.
Websites of organisations mentioned in this article: