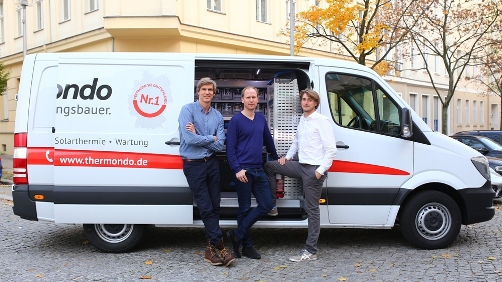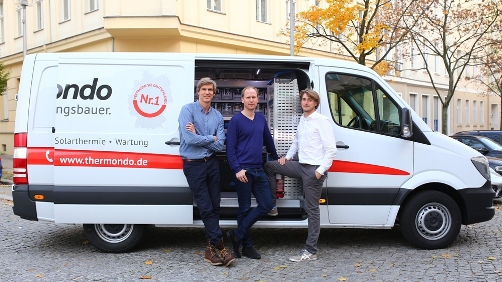 Germany: Thermondo Digitalises Heating Industry Planning and Sales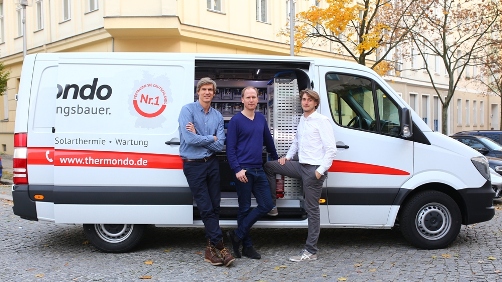 Start-up Thermondo, based in Berlin, Germany, has turned the tables on sales and planning methods for home heating systems. Not only does the company generate its turnover online, it also leaves most of the planning for heating installations to a computer algorithm called "Manfred". Surprisingly, Philipp Pausder, one of the two managing directors of Thermondo, said that the most important outcome of the new strategy wasn't low prices but great service. The photo shows Thermondo's three founding members (from left): Philipp Pausder, Florian Tetzlaff and Kristofer Fichtner.
Photo: Thermondo
Planning and installing heating systems is a complex task. Whereas sales of other products, from shoes to home appliances, started relying on online shops years ago, this business model seemed unimaginable for suppliers of heating systems.
Since October 2013, Thermondo has installed heating systems all over Germany and has full-time staff in more than 20 German cities. The company's heating systems come from Germany's five major market players: Viessmann, Buderus, Vaillant, Wolf and Junkers. The products generate heat by gas, oil, liquid gas, pellets and – since January 2016 – fuel cells. Solar thermal is available as an add-on. So far, Thermondo has installed more than 3,000 of these systems, including about 250 equipped with solar thermal technology.
Computer Program "Manfred" Plans Heating System
Thermondo is not just an online sales platform, but has created a very special planning and sales process. The company has 220 employees, 120 of which are installers. To get in touch with Thermondo, the customer goes to the company's website and enters some basic information about the desired heating system, such as which heat source it should be, whether floor or radiator heating is required, etc. What follows is a phone consultation with a Thermondo employee, who requests detailed information about other influencing factors (e.g., building height, roof surface) and lets the customer specify his or her preferences (e.g., high or low hot water demand, with or without solar thermal system).
Altogether, there are around 130 parameters to be considered and entered for planning algorithm Manfred. Most planning procedures do not even require a visit to the customer's home. The data gathered from the initial questionnaire and the phone call, as well as the subsequently submitted pictures of the building serve as reference points for the project. "There are detailed instructions on which parts of the house to take pictures of, e.g., the gas meter and the narrowest point on the way to the heating room," Pausder said. Manfred will plan the heating system in real-time and return a cost estimate within seconds. Renewable incentives and subsidies are considered directly during planning.
"The program creates a schematic diagram of the hydraulic components and a complete bill of materials, including each and every clamp," Pausder said. Afterwards, all planning proposals are checked by a master craftsman, although Pausder said that Manfred´s bills of materials in particular tend to be more reliable than most lists of materials created by its flesh-and-blood counterparts. "When we started using the program, people told us this wouldn't work. Now, we employ the third generation of our algorithm and it has learned a lot – and so have our master craftsman, who review thousands of plans every year." Ultimately, it's time for the Thermondo team to install the heating system at the customer´s home. To provide sufficient aftersales service, the company has teamed up with the boiler manufacturers' service departments.
Supporting customers in choosing the right energy source
The Thermondo website presents customers with a lot of factors they need to take into account when deciding on an energy source – e.g., installation cost, available space and operating expenses. The website provides detailed simulations of energy consumption, but it is also available when speaking to sales staff in person. "Particularly with regard to complex systems – like systems with solar heat – customers prefer talking to a sales agent in person, not just on the phone," Pausder said. These sales agents, however, are not available at all locations.
Does Thermondo ignore local installers?
Of course, not everybody is enchanted by Thermondo's business model. Especially installers and installer associations remain sceptical. This is not only about Thermondo – rather, there is a shift in the entire market. For example, German Easyheizung has a similar business model. And even large companies with centralised planning and service push into installer territory unchallenged by anyone for decades. There is heating manufacturer Vaillant which makes direct offers to end customers – as a "service for the installers", which will carry out the work and be the official contact to the end customer.
Moreover, energy supplier E.on has teamed up with Thermondo to provide emergency services for heating systems. When it comes to solar electricity, even coffee shop chain Tchibo has seized the opportunity and started selling solar kits to consumers, including installation. Over decades, German installers have managed to protect their trade – proud of their certified expertise and strong-willed in their objection to any interference by suppliers and others in business decisions like pricing. Now, the line in the sand is starting to get washed away.
"The German heating business is a huge market," Pausder said, but the company has already been looking for other business opportunities. Plans for 2016 include contracting solutions for small heating systems, becoming a supplier of natural gas, and working on service level agreements for heating systems, either heating systems sold by Thermondo or others. Entering into the electricity market and expanding abroad are also steps that Thermondo might take sometime in the future. "Not in 2016, though," Pausder said.
Websites of companies mentioned in the article: