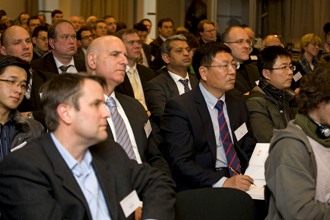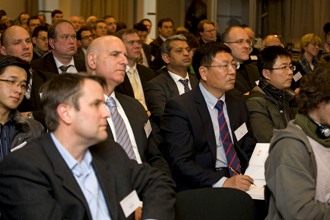 Germany: Solar Thermal Experts Discuss Cost-Cutting Strategies
The solar thermal industry is facing major challenges: Costs of storage and collector components have to be reduced even further if large solar plants are to offer investors competitive prices for heating. Hence, 170 industry representatives and scientists from all around the world came together at the international industry conference SMEThermal 2012 in Berlin at the beginning of February 2012 to explore cost-cutting strategies during a round-table discussion.
Photo: Solarpraxis AG / Therese Aufschlager
"During the last three years, SMEThermal has evolved into an internationally recognised conference for solar system manufacturers and the supply industry," states Karl-Heinz Remmers, Board Chairman of the event's organiser, Solarpraxis AG. The international conference is dedicated exclusively to process optimisation, automation and new materials in the solar tank and collector industry. "This year, we were – for the first time – able to welcome representatives from well-known collector and storage manufacturers outside of Europe: from China, India, Israel, South Africa and South Korea," adds Remmers. In addition, executives from all of Europe's major heating boiler producers, such as BDR Thermea, Ariston, Viessmann, Bosch and Vaillant, took advantage of the unique solar industry event.
The collector industry has been able to reduce costs enormously over the past 15 years. Helmut Jäger, Managing Director of German solar manufacturer Solvis and Vice President of the German industry association BSW-Solar, explains: "As the panel discussion at the launch of the SMEThermal 2012 clearly demonstrated, German collector manufacturers have learning curves of 15% – significantly higher than the usual 10% in other industries." This means that for each doubling of the total installed solar thermal power, production costs have decreased by 15% over the past 16 years.
Reduction of manufacturing costs per doubling of cumulated solar thermal capacity in Germany
Source: solrico/Trenkner consulting
"SMEThermal takes on the important issues in the industry," confirms William Schneider, Market Development Manager of adhesives and sealants manufacturer Sika Deutschland GmbH, one of the suppliers that had a stand at the SMEThermal 2012. "The main goal of the industry is to develop a new generation of high-efficiency panels which can be mass produced cheaply and quickly."
Meanwhile, the industry does is not running out of further cost reduction ideas. During the Innovation Forum of the SMEThermal 2012, machine suppliers – such as German bending machine specialist Felss Burger and the engineers of go!nnovate from Liechtenstein – have presented new machines which speed up processes and reduce scrap rates. Strategies to increase efficiency at virtually the same cost can bring about the same result, as Norwegian aluminium producer Hydro has proven with its new absorbers made from extruded aluminium profiles.
The SMEThermal conference takes place on an annual basis. The next conference will be held in Berlin in early 2013.
More information:
http://www.solarpraxis.de/en/conferences/smethermal-2012/general-information/