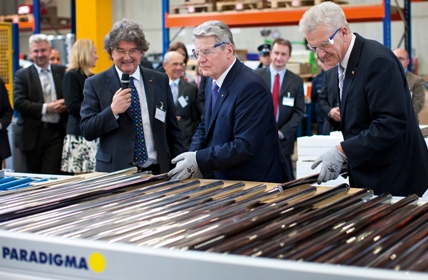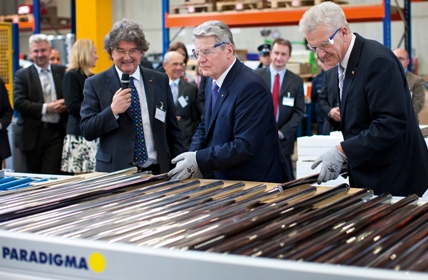 Germany: President Gauck Visits Ritter Group
Solar thermal technology seems to have made quite an impression on the new German head of state. Only one month after taking office, the new President, Joachim Gauck (centre), visited the Ritter Group on his inaugural trip through Baden-Wurttemberg, one of Germany's states leading in innovative technologies. The visit came at the invitation of Baden-Wurttemberg's Prime Minister, Winfried Kretschmann (right). Alfred T. Ritter (left), major shareholder of the dynamic company group, introduced the two politicians to the ecological future of heating. He also used the possibility to raise their awareness of the benefits gained by solar thermal.
Photo: Ritter Group
On their tour through the production hall, the two state representatives were able to learn about how sunlight is used to generate heating energy. Gauck and Kretschmann were then joined by 50 of the company's employees during the subsequent canteen lunch. "I am impressed by the staff's warm welcome. Here, I was able to gain valuable insights into alternative heating methods," Gauck said afterwards. Kretschmann adds: "The Ritter Group is a flagship company, which proves that the future belongs to renewable heating systems."
"With his visit to our company, the President affirms the importance of solar thermal technology," Alfred T. Ritter says. Ritter also told Gauck that in his view, solar thermal got too little attention from politicians and deserved to play a bigger role. Ritter sees no market growth in 2012 due to the difficult framework conditions.
German solar thermal manufacturers are currently registering a positive trend, according to the monthly statistic by German associations BDH and BSW Solar. In the first quarter of 2012, sales have increased by 7.3%. Flat plate collector sales have only been growing by 5 %, whereas sellers of vac-uum-tube collectors (which include the Ritter Group) have been able to record a growth of 37 %. "The positive trend in the vacuum tube collector sector has been caused by some special circum-stances," says Ritter. "They, however, will be offset or vanish this year."
The Ritter Energie- und Umwelttechnik GmbH & Co. KG – short, Ritter Group – is a family-owned business and a leading global provider of vacuum tube collectors. In 2011, Ritter produced about 100,000 m² of gross collector area across Europe – the same quantity as in 2010. Private systems are sold exclusively through distribution company Paradigma and set up by skilled installers. Large-scale systems are designed and built by the group's subsidiary Ritter XL Solar.
More information:
http://www.ritter-gruppe.com
http://www.ritter-xl-solar.com