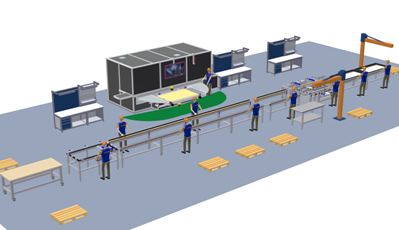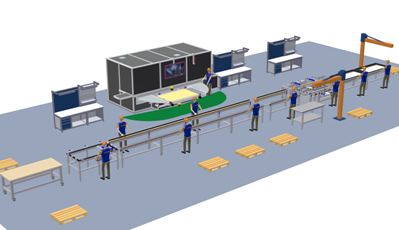 Germany: Minitec Sets up a Demonstration Production Line
A laser welder is the heart of the semi-automated solar thermal production line that Minitec GmbH & co KG will set up to demonstrate costumers the collector manufacturing in operation.
Figure: Sunlaser
The automation engineering specialists from Minitec GmbH & Co KG want to demonstrate their know-how in building turn-key solar thermal production lines by setting up a new demonstration plant soon. The German company announced in a press release at the end of October that it will set up a pilot production line for collectors and absorbers at its former production site in Waldmohr, located in the west of Germany. Minitec has just moved into a new company building in the neighbouring municipality of Schönenberg-Kübelberg. It is a full-service supplier for solutions in automation and plant engineering, employing more than 260 people in 9 factories. The company works together with more than 60 partners and service providers worldwide.
"We are going to design a production line for collectors of the latest generation," the press release states. The equipment for the factory is supposed to be up and running by the end of November. The objective of this so-called competence centre is to show costumers the collector manufacturing in operation and improve the assembly methods of collectors constantly, based on empirical results from the demonstration plant. The modular design of the production line allows for a customized implementation of single automation processes. And, the press release mentioned another service, which could prove valuable for the solar thermal industry: Customers can receive the Solar Keymark certification for flat plate collectors produced with the now offered assembling line. This would eliminate the typically about 2-year period of designing, testing and certifying the solar thermal panels.
The heart of the pilot production line is the laser-welding machine from the Minitec (Schweiz) AG, built in cooperation with Swiss company Sunlaser Consulting GmbH. At the beginning of this year, Minitec GmbH & Co KG acquired a majority shareholding in the Minitec (Schweiz) AG.
Minitec offers three different designs of its laser-welding equipment: The first model possesses a horizontal rotation table. The worker can already fix pipe register and absorber sheet at the table, while another pair of pipe registers and absorber sheets is being processed in the machine. The second version is the portal laser welder for large absorbers up to 6 m in length and 1.4 m in width. In both cases, assembly can be done either with two or four laser sources. The top solution including four sources reaches a welding speed of 30 m/min, which corresponds with an annual capacity of 400,000 m2 done in two shifts. The third machine processes absorber fins from the coil, allowing a maximum size of 6 m. Its annual capacity is 450,000 m2.

More information:
http://www.minitec.de
http://www.sunlaser.ch