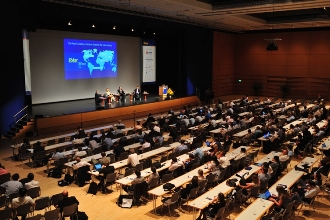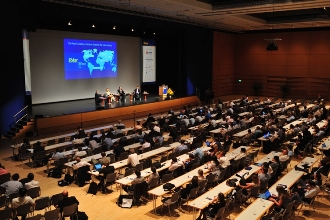 Germany: Intersolar Europe and Solar District Heating Conference Cover Numerous Topics
Two international conferences on solar heating and cooling will take place in Germany at the beginning of June: the Intersolar Europe Conference in Munich from 2 to 4 June 2014 and the Solar District Heating Conference in Hamburg on 3 and 4 June 2014. Both event organisers have now published the complete programme. 
Photo: Intersolar Europe
Intersolar Europe Conference expands list of topics
From 2 to 4 June, the Intersolar Europe Conference will accompany the Intersolar Europe, one of the world´s largest exhibitions for the solar industry, and expand on the latest topics affecting the industry (the complete conference programme can be found
here
). The event location will be the ICM − International Congress Centre Munich.
Intersolar Europe 2014 has expanded its list of topics: Renewable Heating will now not only include solar heat generation, but also cover renewable heating systems, such as pellet and wood-chip heating systems. Energy-efficient technologies, such as mini combined heat and power plants, cogeneration systems and heat pumps, will also be part of the newest exhibition.
Renewable heating forum in hall C4
The 2014 conference programme will include a session on Renewable Energy Buildings (Tuesday, 1.30 to 3.30 pm) and Solar Buildings (Tuesday, 10 to 12 am). The sessions will be accompanied by an outlook on new technologies and the latest developments in the markets (Tuesday, 4 to 6 pm). The discussion on energy-efficient buildings will revolve around the amended European buildings directive (Nearly Zero-Energy Buildings) and the energy label, which is soon to be mandatory in Europe and is to provide information on the energy-efficiency of hot water and heating systems.
Taking place in hall C4 (booth C4.151) from June 4 to 6 in addition to the exhibition segment, the Forum on Renewable Heating will offer presentations on different ecological and energy-efficient heating systems, heat storage tanks and the new European energy efficiency labels. The forum is supported by the association of independent consultants on energy-efficient building, Bayernenergie, the federal association of building energy consultants, engineers and craftsmen, GIH, the Institute of Thermodynamics and Thermal Engineering of the University of Stuttgart and the Bavarian Association for the Promotion of Solar Energy.
Second International Solar District Heating Conference
Solar district heating has gained increased attention all across Europe in recent years. District heating is one major approach to improving the overall energy efficiency in urban areas, either by retrofitting existing systems or by integrating new systems into new or existing buildings. The first conference on solar district heating, which took place in Malmö, Sweden, on 9 and 10 April 2013 sparked great international interest and attracted 120 participants from 19 countries.
In 2014, the Solar District Heating Conference will be held from 2 to 3 June in the halls of the old waterworks of Hamburg's municipal energy supplier, Hamburg Energie. Hamburg Energie will present its outstanding solar district heating project, Energy Bunker, during technical tours before and after the conference sessions.
The conference sessions will include the following topics:
Solar district heating for housing areas and villages
Technical system integration of solar thermal into district heating
Policy, market strategies and business models
Smart district heating systems including solar thermal
More information: