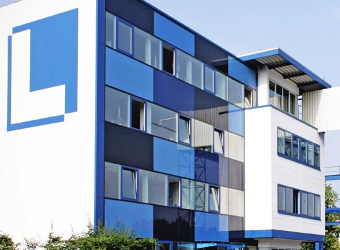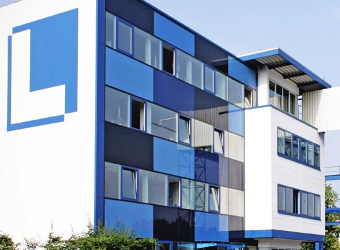 Germany: Façade Hot Water
The aim of German insulating glass manufacturer Energy Glas GmbH: To produce hot water by incorporating a solar thermal collector into the glass façade of commercial buildings. "We wanted to develop a new glass-glass collector which basically fits into all post-and-beam constructions in the façade," Elmar Dohmann, one of the four Managing Directors of Energy Glas, says. The company's R&D efforts succeeded: The team is proud to have realised its first two pilot projects with the new collector model. Since last year, metal absorbers in a triple-pane glazing have been installed in the façade of steel construction company Heinrich Lamparter Stahlbau GmbH & Co KG in Kassel (see photo) and in the façade of the sports centre in Etteln.
Photo: Lamparter Stahlbau
The collector panel consists of two gas-filled front panes, which enclose a metal absorber. The absorber's flexible mounting inside the panes will allow it to adjust to any thermal expansion. The third glass pane is glued to the double-pane construction as it would be in an ordinary window.
There were some challenging aspects during the development of the new collector:
How to deal with an expanding metal absorber when the temperature is rising
How to guarantee a uniform and smooth collector surface under a transparent glass cover
How to lead the meander's hot water pipes out of the gas-filled window
"In the first generation, we used a roll bond aluminium absorber, which had some space to move sidewise and which was supposed to not bend that much at high temperatures," explains Dohmann. The second generation now includes an aluminium plate and a copper meander pipe, which are connected through omega-shaped thermal conduction sheets. The pipe with the solar heated water passes the spacer and leads sidewise out of the window into the post-and-beam construction.
This panel is currently tested by the German Institute for Solar Energy Research Hameln/Emmerthal, ISFH. The tests will be finished in the first quarter of 2013, so that Energy Glas could launch the collector panel next year.
Dohmann and his three colleagues in management left German flat glass processor Interpane Glas Industrie AG four years ago to found Energy Glas. Today, the insulating glass manufacturer employs more than 80 people. In 2011, it received the Hesse award for newly founded companies in the category "Jobs Created".