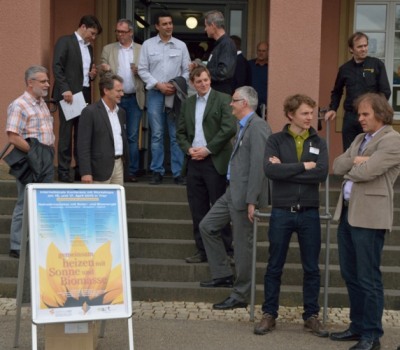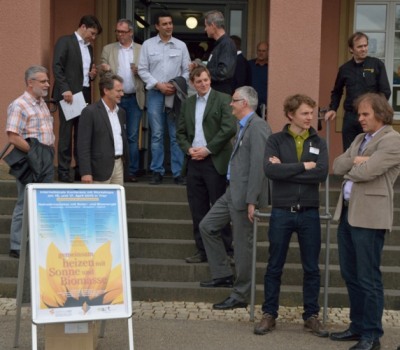 Germany: Crowd Lending or Cooperatives – Different Ways to Bring Solar District Heating into Focus
Renewable heat comes out on top whenever it substituted fossil energy, Swiss solar thermal pioneer Josef Jenni stated during the first panel discussion of the conference on district heating with solar and biomass, which was held in the German city of Trier on 16 and 17 April 2015. Organised by the local solar association, Solarverein, it provided a platform for experts from small and medium-sized industrial companies, universities and research institutes based in Germany, Switzerland, France, Denmark, Austria and Luxemburg to work on turning this objective into a reality by focusing on viable business models of renewable use in district heating systems. 
Photo: Vanessa Kriele
"The good news is: Our model has already worked," Detlev Seidler, Sales Manager Germany at Austrian S.O.L.I.D, said when he presented his company's crowdfunding – or rather crowd lending – approach (see attached presentation in German). S.O.L.I.D. has been acting as an ESCO for solar thermal district heating on the Austrian as well as the international market for many years. But when banks became increasingly reluctant to finance solar thermal projects, the company began to look for other than the traditional sources of financing and launched S.O.L.I.D. Invest. "Even a lot of small contributions may ultimately result in a big one," Seidler said. Investors may lend from EUR 2,000 to 25,000 each and could expect 4 % interest each year. Their investment will normally be locked for five years – but can be withdrawn also earlier.
Raising EUR 1.5 million with crowd lending
This "civic participation model" – as S.O.L.I.D. calls it – has been a successful one in Austria: The company raised EUR 1.5 million between November 2013 and May 2014 – enough to fund the first project. Crowdfunding for a second project started in August of 2014, and S.O.L.I.D. Invest is now entering the German market as well. The company advertises that its funding approach engages environmentally aware people in solar thermal projects. The ownership of the solar thermal plants remains in the hands of S.O.L.I.D., however. And there is no limit on who may invest in the project. Hence, lender participation will be merely financial – which may turn out to be an attractive solution, considering non-existing interest rates for traditional financial products.
Still, it remains rather a financial product than a participation model, comparable to investment models for wind energy plants, which have certainly helped write their success story. The first project financed by S.O.L.I.D. Invest was a 1,500 m² plant to provide solar heat for space heating and air conditioning of the test stand at Austrian company AVL, a manufacturer of powertrain systems. The second project will expand the collector area of a district heating system in Graz from 4,960 to 6,960 m².
Co-op members become solar thermal system owners
If there ever was a chance to make solar thermal heating viable for a wide variety of district heating projects, it would be now, some visitors of the congress said during the break. As many citizens – especially in Germany – do not want private companies to be responsible for their heating supply, some of them prefer to take over energy generation themselves by creating cooperatives. Christoph Gottwald, lawyer at the RWGV, Rhine-Westphalian Cooperatives Association, said that a local heating system was one quite popular reason to establish a cooperative in Germany nowadays – although he wasn't aware of one aiming at providing solar thermal heat. In total, there are 900 energy cooperatives in Germany. Most of them still have their focus on biogas or wood.
Cooperatives do not need to guarantee ROI and whoever invests in these projects will become one of their owners. But being planned by volunteers, they needed to instil a certain "passion", Gottwald explained. In case of a cooperative, it is more likely that the money comes from people who will later be users of the solar thermal energy provided by the project. Therefore, it is crucial to convince as many people as possible in the district for which the heating system is designed and to secure land rights if a central power source, such as a large solar field, is being planned.
Profitable solution: district heating above 1 MWth
The cooperative solution is closer to the idea of a democratic way of producing heat, but not even such a cooperative would chose solar thermal heat if it was more expensive than the alternatives – for example, other renewables, such as biomass or waste heat from power plants. That's why some of the speakers were concentrating on defining the "low-hanging fruit" really worth harvesting, as Thomas Pauschinger from German research institute Solites put it. Solites has been investigating which types of solar district heating may be profitable. According to Solites study results, large installations with more than 1 MWth may be profitable in combination with an existing district heating systems. But it could also be enough to install simple solar systems covering up to 20 % of the heating demand, especially if they were established as "green meadow" projects.
Considering the 20th anniversary of the Solarverein Trier, the low share of solar heating in national energy mixes might have left participants discouraged. But maybe the industry is really just beginning to take off. One visitor said during a conference break: "Only now are energy production costs reaching competitive levels for a broader range of projects." But, one might add, mostly still in combination with subsidies or tax credits.
More information:
This news was written by Vanessa Kriele, a German freelance journalist specialised in renewable energies and world economics.