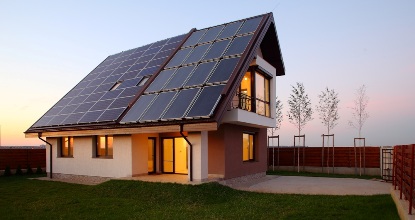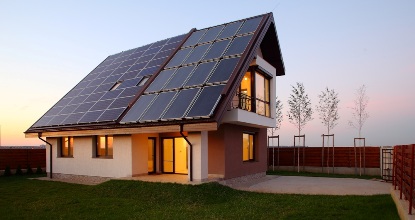 Geo-Solar House Design Made in Romania
Between 19 and 21 November 2014, the seventh Renexpo South-East Europe fair in Bucharest, Romania, brought together 100 companies from across 12 European countries. The Palace Hall seemed to be almost too small to host the three-day event. The conference, which ran parallel to the fair, offered a wide variety of topics, from hydropower to cogeneration, biogas, photovoltaics and energy efficiency. There was no session dedicated exclusively to solar thermal, but some presentations also covered case studies including solar heating and cooling. One of these presentations was about the Casa Solaris, the geo-solar house by Romanian company Geoterm (see photo).
Photo: Geoterm
The demonstration project was set up near Bucharest and was completed in May 2014. It shows an annual energy consumption of 50 kWh/m², which is significantly below the yearly demand of an average single-family home in Romania. "It is the first of three Casa Solaris houses that we are planning to build," Neculai Negut, Co-owner and Technical Director at Geoterm, explained. Negut's company specialises in geothermal energy solutions, designing and building vertical heat exchangers and performing geothermal drillings, mainly for heat pump applications.
Solar used in low-temperature wall and ceiling heating
The Casa Solaris has 120 m² of living space and is equipped with 16 collectors totalling 37 m². The collector field is expected to provide 95 % of both the 6 MWh of annual heating demand and the 3 MWh of annual hot water consumption. The house was designed with a ceiling and wall heating, which runs at rather low temperatures of 25 to 35 °C, making the use of solar thermal a very efficient option. The solar energy surplus from summer is directed into an underground storage for utilisation during the winter time. The collector field is the main innovation of the house, which has no heat pump: The underground thermal energy at the end of the cold season should be enough to feed the aforementioned low-temperature heating system. The house also has an electrical backup source to cover heating peaks if necessary.
The same low-temperature hydronic ceiling and wall system is used to cool down the Casa Solaris. Indoor climate is controlled based on humidity and CO2 levels by ventilation with heat recovery. The house also has 72 m² of photovoltaic panels, which produce four times more electric energy than required by the occupants. Surplus solar electricity is then fed into the public grid.
Energy supply system by Casa Solaris
Source: Geoterm
"Our idea was to come up with a comfortable and affordable house using renewable energy sources (the sun) and rounding it off by providing an underground heat storage system. Our main technical challenge was finding a way to store – and reuse – solar energy efficiently and all year round," Livia Stanciu, Co-owner and Director at Geoterm, explained.
Search for business partners to promote design on bigger scale
"We knew that such an innovative idea would require more than theoretical calculations to be persuasive, so it was crucial for us to find a financial backer who was both visionary and bold enough to help us implement it," Stanciu explained in her speech at Renexpo. The investor in the first Casa Solaris house is a private Romanian. "Now that we have already built up our first Casa Solaris, we wish to find collaborators and business partners to optimise and further develop the design, as well as to promote and implement it on a bigger scale."
The critical point seems to be the underground heat storage system because of its inherent thermal losses throughout the year. According to Geoterm, underground storage (patent pending) is custom-built, located next to the house and insulated at the top. Time will tell whether the concept can work during the cold winter time.
More information:
This text was written by Mihai Vintila, owner of InfoEst.ro, a Romanian news portal