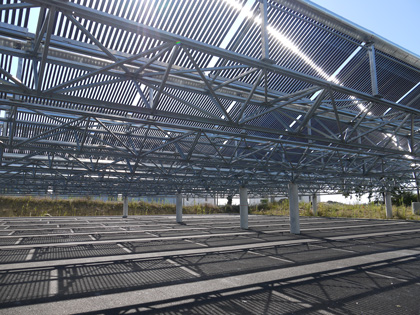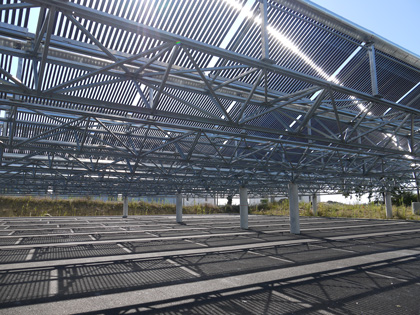 France: Third Solar District Heating Conference Call for Paper
After Denmark and Germany, it will now be France's turn to host the Solar District Heating Conference. Researchers, as well as representatives from municipality utilities and solar thermal system suppliers will meet in Toulouse on 17 and 18 June 2015 to discuss international case studies, new business models and marketing strategies. The two-day event will consist of a mix of panel discussions, presentations by industry experts and site visits. In Toulouse, conference participants can visit the first French solar district heating plant, which is located in the eco-district of Balma and boasts 458 m² of vacuum tube collectors on a shade structure on top of a parking lot (see photo).
Photo: Viessmann/SDHplus
The conference will be jointly organised by Amorce, the French Coalition of Local Authorities, Associations and Companies in the Field of Waste Management, Energy and District Heating Systems, and the German Steinbeis Research Institute for Solar and Sustainable Thermal Energy Systems, Solites, under the auspices of the Intelligent Energy Europe project SDHplus – New Business Opportunities for Solar District Heating and Cooling. The last two SDH conferences gathered around 120 experts from all across Europe.
Call for paper key topics
Researchers and solar district heating experts are welcome to send in their contribution to the third Solar District Heating Conference before 6 February 2015. A scientific committee will then evaluate the abstracts until mid of March 2015. Key topics of the conference are
RES and solar district heating for the community (Developing solar district heating systems at local level, lessons learnt from the project implementation and operation of SDH plants, citizen participation)
Urban planning and business models (Incorporating SDH into local energy policy and heat plans, marketing strategies, business models for SDH, cost of solar energy)
Advanced SDH concepts and components (New system designs, integration of solar with other energy sources, monitoring results, lessons learnt from SDH plant design and construction)
The technical visit as part of the third SDH Conference will lead to the Vidailhan neighbourhood with 1,200 units made up of elderly homes, low-income family housing, offices and normal flats with shared rooms, surrounded by a large park. The eco-district is being supplied by a district heating system with biomass boilers and the vacuum collector field that was installed by Viessmann. It is one of the first demonstration plants with the newly developed heat pipe collector for large fields. The collector was designed by SAED, which is located in the south of France and was purchased by Viessmann in October 2013. The collectors are comprised of a thicker manifold wrapped in a one-piece aluminium sheet. The end of the sheet is cut into multiple fins that are connected to the different heat pipes.
More information: