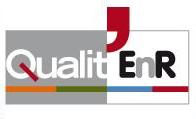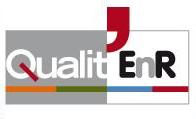 France: Qualisol – A Quality Scheme for Installers
Qualit'EnR manages the solar thermal installers label Qualisol and offers a wide range of services to qualified installation companies, such as: listing on the web portal (www.qualit-enr.org), free technical assistance, advertising and communications material and the Qualit'EnR newsletter.
Qualisol is a renowned French label, recognizing skilled installers of solar domestic hot water systems and combined solar systems. Various renewable energy actors acknowledge and support the quality scheme managed by the French organization Qualit'EnR: public authorities, energy information centres, professional organizations and energy utilities. Around 10,500 plumbers all over the country are approved Qualisol installers.
The French Environment and Energy Management Agency, Ademe, first created the Qualisol label in 1999 and handed over management of the label to Qualit'EnR in 2006. Qualit'EnR itself was founded by five professional entities – among them professional organizations and renewable energy industry associations. In the same year, the organization launched a Qualisol charter with ten points all installers must commit to. A few requirements included in the charter are:
Applying companies must prove that the company's activities include the installation of relevant renewable energy systems.
The installer is to provide evidence of having procured the required insurance for activities and installations performed: both general and decennial liability insurance.
At least one "reference" in the company is to have considerable installation experience or completed Qualit'EnR-recognised training in the solar thermal area.
Plumbing companies commit themselves for a three-year membership, guaranteeing to install a minimum number of systems, of which Qualit'EnR is to audit at least one. Since the Qualisol label is granted for a specific year, companies must renew their subscription each year, in order to retain the label. Qualit'EnR arranges audits of domestic solar water heater systems and combined solar systems that have been installed for individuals and already are in operation. Sites to audit may be selected at random or may be specific ones (so-called "triggered" audits), following complaints by regional authorities, Ademe, energy information centres or individuals.
The above-mentioned regulations will ensure that only active installers remain partners of the quality scheme. Several of the plumbers who asked for the label in 2006 were not allowed to renew it in 2009, because they were not able to provide the minimum number of installed references. The sorting out of former label members is also apparent in the decreasing number of newly granted labels. In 2008, Qualit'EnR issued Qualisol labels to approximately 13,000 installation companies. In 2009, only 10,500 new labels were granted.
Training is a key pillar of the quality process put forth by Qualit'EnR. Hundreds of skilled trainers throughout the entire country offer high-quality training to installers. Qualit'EnR has also set up an approval process for training facilities: Once approved by Qualit'EnR, training centres or industrial operators with the required training equipment and experienced trainers will be able to provide Qualisol training to professionals.
According to Qualit'EnR experiences, the entire sector seems to profit from the quality audit process. Discussion with auditors offer installers the opportunity to learn more about how to improve their installation practices. Moreover, the audit process also contributes to keeping training programmes and standards up-to-date, taking commonly observed defects into overall calculation.
Besides Qualisol, Qualit'EnR is managing three other quality schemes: QualiPV for photovoltaic energy, Qualibois for bioenergy and QualiPAC for aerothermal and geothermal energy.
More information:
http://www.qualit-enr.org
This text was provided by Vénus Maroun, Project Officer – Europe Qualit´EnR in France.