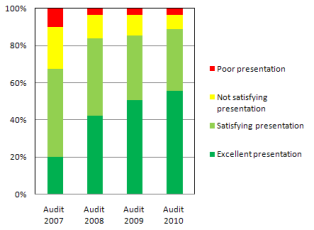 Qualisol audits
France: More than 9,000 Quality Checks of Solar Thermal Systems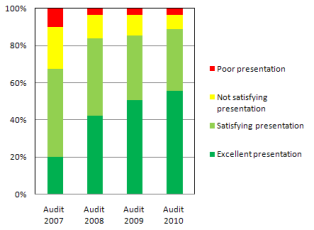 The quality of solar water heaters is improving steadily. Evidence of this trend can be found in the results of the 8,000 Qualisol audits, which have been carried out since 2007. Within four years, the share of "excellent" installations more than doubled, from 20 to 55.5 %. The share of "poor" installations shrank from 10 to 3 %.
Source: Qualit'EnR
Each of the 10,000 installers registered with the Qualisol scheme must pass at least one audit every 3 years, which adds up to 3,000 to 4,000 audits per year. They are carried out by auditors chosen by the Qualit'EnR association, which administers the quality label (see the attached presentation). The auditors visit the site, inspect the installation according to a 100-point checklist and assign one of four possible rating levels:
Excellent service: System perfectly installed without any Non-Conformity  
Satisfactory service: 1 to 4 minor Non-Conformities
Insufficient service: 5 or + minor Non-Conformities or 1 major Non-Conformity
Faulty service: At least 2 major Non-Conformities
The positive trend also shows up in the quality checks of combi systems for hot water and space heating, which have been audited since 2009. The share of excellent installations rose from 40 % in 2009 to 55 % in 2010. This year, only 1 % of the audited systems were rated as "poor". "Mostly advanced plumbers install combi systems; that´s why the results of the audits are even better than the ones for simple water heaters," Richard Loyen, Secretary General of the French Solar Energy Association Enerplan, explains.
Installers, who are responsible for a "faulty service", are suspended from the Qualisol programme until they have fixed the installation. The company then has to pass a second audit with a rating of either "excellent" or "satisfactory". The audits are thought to help installers improve their work, which is why they are always given a second chance to fix the installation.
And who pays the audit fees? Since the beginning of 2010, installers themselves pay 100 % of the audit costs, which are EUR 250 for a simple solar water heater and EUR 400 for a combi system.
More information:
http://www.qualit-enr.org